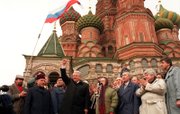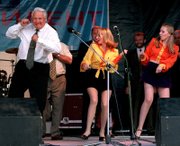 Moscow — Boris Yeltsin was a courageous fighter, an instinctive democrat who helped dismantle the vast totalitarian apparatus of the Soviet state and its monolithic Communist Party, freeing millions in Asia and Europe.
Yet when he died Monday, at age 76, many Russians regarded their nation's first freely elected president as a failure, or worse.
Yeltsin "was a revolutionary leader at a revolutionary moment," said Andrew Kuchins, an analyst at the Center for Strategic and International Studies in Washington, D.C. But that moment, it seems, has long passed.
Yeltsin's successor, President Vladimir Putin, has muzzled the media, restricted the independence of parliament and governors, effectively crippled opposition political parties and filled many high state offices with veterans of the Soviet and Russian secret services. A pollster recently measured his approval rating here at more than 80 percent.
Yeltsin's death
Larger than life during his tenure, Yeltsin shrank from public view following his retirement on New Year's Eve 1999 and in recent years has rarely given interviews. Only after his death was the big, bumptious politician with the soft pink features and wave of white hair seen again in file footage on Russian television.
Putin spoke to the nation four hours after the announcement of Yeltsin's death to praise his predecessor - and one-time patron - as a man "thanks to whom a whole new epoch has started."
"New democratic Russia was born, a free state open to the world; a state in which power truly belongs to the people," Putin said.
Yeltsin will be buried Wednesday in Moscow's historic Novodevichy cemetery, the resting place of such diverse figures as writer Anton Chekhov and former Soviet leader Nikita Khrushchev. Putin postponed his annual state of the state address from Wednesday to Thursday in deference.
Legacy
Kuchins said Yeltsin was a reformer who battled the Communist Party from the inside, an exultant wrecker of the U.S.S.R.'s totalitarian regime.
But as president of Russia, he seemed too willing to use force, too tolerant of corruption, too eager to trust his gut - even when it led to disaster.
He stood on top of a tank during the 1991 coup attempt by Communist hard-liners like a big-game hunter celebrating his kill, but two years later, he ordered tanks to shell upstart members of parliament. He broke up the old Soviet Union, but then invaded Chechnya when the region joined the rush for independence.
He abolished the old KGB, but then named a KGB veteran - Putin - as his heir apparent.
But what angered many Russians was how Yeltsin the crusader against Soviet corruption presided over a fire sale of state-owned industries to Kremlin insiders, a move that created a small cadre of Russian billionaires overnight.
Meanwhile, during his tenure, many ordinary Russian citizens saw their savings wiped out, their jobs evaporate, the society their parents and grandparents had created disintegrate.
"He was one of us," said Galina Alexandrovna, a Moscow resident, recalling the heady days after the Soviet collapse. "When we elected him, we all shouted, 'Hurrah for Boris Yeltsin,' but then Russia started selling itself off, and we the simple people didn't like what was happening."
Mikhail Gorbachev, the last Soviet president, eulogized Yeltsin - both a comrade and a nemesis - as one "on whose shoulders are both great deeds for the country and serious errors," according to the news agency Interfax.
Highs and lows
Perhaps frustrated by Russia's stumbling out of the gate after the Soviet era, Yeltsin increasingly concentrated power in his own hands - and finally handed the president's enormous powers over to Putin, whose loyalty impressed Yeltsin.
After Putin took power, he was careful to cultivate the image of the anti-Yeltsin. The second Russian president always appears sober, where Yeltsin often was not; Putin is decisive where Yeltsin waffled, firing Cabinet after Cabinet. And Putin appears calculating where Yeltsin could be spontaneous to the point of being impulsive.
Yeltsin's greatest moments, in fact, came during fitful flashes of inspiration and surges of energy. From atop the tank, he led resistance to the attempted coup against Gorbachev in August 1991, and spearheaded the peaceful end of the Soviet state on Dec. 25 of that year.
Ill with heart problems, and facing possible defeat by a Communist challenger in his 1996 re-election bid, Yeltsin somehow sprinted through the final weeks of the campaign. The challenge transformed the shaky convalescent into a spry, dancing candidate.
When he boogied onstage with two miniskirted women during that campaign, some Russians laughed, while others rolled their eyes.
His career, in fact, was often punctuated by bizarre behavior that the public chalked up to drinking. Red-faced pranks, missed appointments, and inarticulate and contradictory public comments were blamed by aides on jet lag, medication or illness.
Yeltsin was not one to apologize. "A man must live like a great, bright flame and burn as brightly as he can," Yeltsin has been quoted as saying. "In the end, he burns out. But this is better than a mean, little flame."
Copyright 2018 The Associated Press. All rights reserved. This material may not be published, broadcast, rewritten or redistributed. We strive to uphold our values for every story published.