Photo Gallery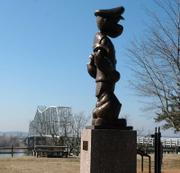 Bill Snead in D.C.
Editors note: Journal-World Senior Editor Bill Snead is on leave while in Virginia and D.C. reporting and photographing stories for a new Web site being developed by WashingtonPost.com. He will write occasional pieces until his return.
Driving from Lawrence to Washington, D.C., is really no big deal. Pull onto the Kansas Turnpike, turn right and in 18 hours or thereabouts, you're there.
But that's if you take Interstate 70, where the only scenery you're exposed to is painted on the sides of tractor trailers. The backs of those trailers ask us, "How Am I Driving," as if they honestly wanted to know. The "Drivers Needed" signs give them away.
Driving the southern route, after St. Louis, and taking I-64 through Illinois, Indiana, Kentucky and onto West Virginia and Virginia is more fun. Driving alone makes it an adventure. Gives a person time to think. Thinking goes smoother with music. By the time we hit St. Louis at rush hour, it was obvious that Tina Turner, Diana Krall, Yo-Yo Ma and Leonard Cohen were not the calming effect we were seeking while jockeying for space in the NASCAR style 75 miles an hour traffic. I'd obviously been driving in Lawrence for too long.
After we missed the I-64 exit that would have carried us into Illinois, we finally stopped in southern Missouri, consulting our 1999 Rand McNally atlas. It was the first time we'd noticed its large type and lack of detail. It appeared faintly that there was a bridge across the Mississippi near Perryville, Mo. That could get us headed towards I-64 by way of Carbondale, Ill.
And while stopped, we found our companion for the rest of the trip: a classical version of 30 Christmas carols. Outside of Perryville, we stopped at a neat gas station/convenience store. Probably 10 people inside. I asked a uniformed over-the-road trucker if Missouri Highway 51 crossed the Mississippi about 15 miles west of where we stood.
"Don't know," he said pleasantly. "I always cross at Cape Girardeau about 30 miles south."
I asked a store clerk who had no answer.
In a slightly raised voice directed at the customers standing in line, I asked if any of them knew of a bridge.
Nothing. Not a peep.
I couldn't help myself.
"Are you all being held captive here? Should I go get some help?"
Only quiet smiles.
For the sake of adventure, we soon found that there is indeed a huge bridge on Highway 51 that will carry you into Chester, Ill. Quiz time.
What famous cartoonist was born in Chester? Popeye?
Elzie Segar, born and raised in Chester, created the Popeye character. There is a small Popeye bronze at the end of the Mississippi River bridge, near the road to the Menard branch of the Illinois State Penitentiary.
Moving through the tip of Indiana, we had a thought. Why does a smallish flatbed truck carrying a single damaged car have yellow and white lights flashing as it roars through traffic, while a tractor trailer carrying seven brand new cars has no flashing lights?
We got lost in another rush hour east of Lexington, Ky. Hours later, back on I-64, our car found Morehead, Ky., and a motel across the parking lot from a huge 24-hour Wal-Mart. To me, the store was a sign of divine intervention. Sometime after 10 p.m., a nice man in the sporting goods department spent a good portion of an hour showing me how to use one of those satellite navigation systems (GPS) the size of a pack of playing cards. I ended up buying a Garmin (Kansas City via China) for more than 400 bucks. I figured it was an early 70th birthday present, and if I don't hit 70, it makes it an even smarter deal.
Now, after typing in an address, the name of a town, whatever, I set it in the passenger seat and hit "Go." A computer's female voice tells me things like, "In four-tenths of a mile, move to the right-hand lane" or "Turn right on Highway 28 and drive for 7.8 miles."
On the gadget's face, it shows you where you are and a checkered flag marks your destination. You can use it when walking. Is that neat or what?
When you make a mistake, the sarcastic version of a female voice says, "Recalculating," and new directions soon follow.
So now, while joining the thousands of vehicles that convoy briskly through Virginia and D.C., I can listen to an all-news radio station and watch the road while a virtual female gives me directions that I almost always follow.
Copyright 2018 The Lawrence Journal-World. All rights reserved. This material may not be published, broadcast, rewritten or redistributed. We strive to uphold our values for every story published.