Baghdad — The bad blood began to rise a few months ago in northern Iraq with the kind of interfaith love so reviled by Iraq's religious extremists: A Muslim woman eloped with a member of a tiny religious sect called Yazidi.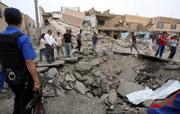 It erupted in a massacre Sunday, police said, when Sunni gunmen in Mosul hijacked a busload of mostly Yazidi workers from a nearby town and shot and killed 23 of them, one by one.
The mass murder was the latest attack on religious minorities in Iraq, where human rights groups say Christians, Jews and members of other smaller sects are often killed, persecuted or forced to convert by Muslim extremists. Last month in Kirkuk, two elderly Chaldean Catholic nuns were killed by armed men who stormed into their house as they slept.
But police said Sunday that the Mosul killings appeared to be rooted not just in religious differences, but also in revenge.
Four months ago, the Muslim woman eloped with the Yazidi man, who was from Shikhan, a Yazidi-majority village outside Mosul, said Mohammed Abdul Aziz al-Jabouri, the city's deputy police chief in Mosul. Muslims responded by torching some Yazidi homes in Shikhan, he said.
A few days ago, a Yazidi woman from Beshiqa, another nearby village populated mostly by Yazidis, eloped with a Muslim man and converted to Islam. To punish her, al-Jabouri said, the woman's family stoned her to death.
On Sunday afternoon, workers from a Mosul textile factory were heading home to Beshiqa when gunmen stopped their bus, police said. After checking passengers' identifications, the gunmen drove to an isolated Mosul suburb, then lined up 23 of them and shot them to death, said Abdul Karim Khalaf al-Kinani, a spokesman for the Interior Ministry.
It was unclear how many passengers were on the bus. al-Jabouri said the bus carried 40 passengers and that the gunmen freed 17 Muslims on board and killed the 23 others, all of them Yazidis. al-Kinani said there were 23 passengers in all, and 20 were Yazidis.
"They don't know the language of negotiation," he said of the killers, who he said were probably members of the Sunni insurgent group al-Qaida in Iraq. "They only know the language of weapons."
Gasan Salem Alias, 30, leader of the Yazidi Association for Solidarity and Brotherhood in Beshiqa, said the killings had sent a wave of shock and grief through the village, where some residents lost as many as three relatives in the shootings. Burials were scheduled for this morning, he said.
Uday Crus, a reporter for a local Yazidi newspaper, warned that the retaliation might not be over.
"We are expecting a strong violence against the Muslims who live in Beshiqa," he said. "Our community is tribal. That means we should take vengeance on the people who committed this terrible tragedy."
The bloodshed came as violence continued in Baghdad, where police said bombings killed at least 30 people and wounded more than 100.
The deadliest bombing occurred when two suicide car bombers detonated outside a police station in a religiously mixed neighborhood in western Baghdad. The blast killed at least 18 people, made rubble of nearby buildings and set several police cars aflame, police said.
Four U.S. soldiers died Saturday, the military reported. One was killed and three others were wounded in a roadside bombing and firefight in southwest Baghdad. Another was killed and one was wounded when their patrol was attacked by small-arms fire in the capital's eastern sector. A rocket or mortar attack on a military base southwest of Baghdad killed one and wounded two. One died in Baghdad of noncombat causes.
Copyright 2018 The Lawrence Journal-World. All rights reserved. This material may not be published, broadcast, rewritten or redistributed. We strive to uphold our values for every story published.