It would be nearly impossible for anyone to drive a golf ball in such a way as to startle Kansas University senior Gary Woodland. He hits it so far himself, why would anyone else wow him? Watching his coach, Ross Randall, go to work with a wedge in his hands, now, that's a different story.
"He doesn't hit it far anymore, but he still scores," Woodland said. "He gets inside 80 yards, and it's like he's an automatic up-and-down. Just seeing that has helped me a lot."
Woodland, a Topeka native who came to KU after playing basketball for a season at Washburn University, has it all going for him. He can hammer drives 400 yards. Golfweek ranks him 13th in the world among amateur golfers. There are no campus rankings for eligible bachelors, but those in the know whisper he would rank considerably higher than that if there were. He would have plenty of reason to get stuck on himself if he chose that path. He doesn't. He sees past the end of his nose well enough to marvel at the skill of Randall, who spent nine years on the PGA Tour and is in his 28th year as golf coach at Kansas. How cool is that?
"My short game has improved tremendously," Woodland said. "I'm getting up and down a lot more consistently. There is always room for more improvement."
Woodland has eight top-10 finishes in 11 tournaments and has won three of them.
Woodland's consistency will undergo a severe test today and Tuesday, when he competes against a loaded field in the Big 12 Championship on a scenic course that is considered by many to be the most beautiful track in Kansas. Prairie Dunes, located in Hutchinson, is not a particularly long course, but it can become wickedly difficult when the winds whistle, which is often.
The golfers are scheduled to play 36 holes today and 18 in Tuesday's final round. As of Sunday night, the National Weather Service forecast called for temperatures in the mid-70s and winds in the 14-mph range for most of the time the golfers will be on the course today. Isolated thunderstorms and stronger winds were in the Tuesday forecast.
Woodland is one of the golfers to keep an eye on, but not necessarily the favorite.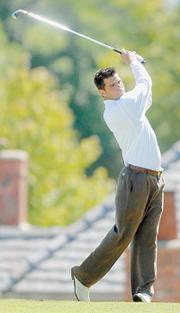 Oklahoma State features two of the top-four amateurs in the world in Jonathan Moore and Pablo Martin. Missouri's John Kelly was the low amateur at the Masters two weeks ago, and Texas Tech's Oscar Floren played at the British Open last year. Several others, including KU stealth contender Tyler Docking, have the games to win the men's title the way KU's Amanda Costner won the women's.
Woodland has a reputation for hanging onto leads.
"When I'm playing well, everything takes care of itself," Woodland said. "When I'm not playing well, I have to figure out a way to get it around. That's been my downfall."
Rules prohibited Big 12 golfers from playing the course for a full year before Sunday's practice round in preparation for the championships. That's fine with Woodland. He has played the course often, going back to his days as a junior golfer.
If the winds that so often make the course more difficult kick up, all the better, as far as Woodland is concerned.
"That will eliminate a lot of players," Woodland said. "It's such a mental test, and local knowledge is so important."
It's no secret why Docking, ranked 162nd among college golfers by Golfweek, is having a terrific senior year.
"He can always hit with anybody," Woodland said. "When he gets the putter going, he can play with anybody."
The best way to beat Prairie Dunes is not to let it beat you, Randall said.
"You've got to get a hold on your emotions," he said. "You could be having a really good day, but if you don't play sound, you'll end up with a 78."
Kansas will use its ninth lineup in 12 tournaments and is down to seven healthy players from which to choose. A team title isn't a realistic expectation.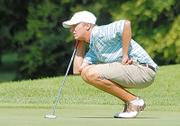 "I'd be pleased with an upper-division finish," Randall said.
The Big 12 championships return to Prairie Dunes, a par-70, 60,593-yard course, for the eighth time and first since 2004. Oklahoma is coming off of its first conference crown. Baylor and Kansas also have won the title once. Top-seeded Oklahoma State has four titles, Texas three.
Kansas, seeded No. 6, tees off at 8:50 this morning. There is no charge for admission to the event.
Oklahoma State athletic director Mike Holder coached golf for 32 years at the school.
"Coach Holder said many times this might be the best course a lot of these guys will ever play in their lives," Randall said.
Prairie Dunes, designed by Perry Maxwell, opened in 1935. Maxwell was known for building small, undulating greens that are difficult to hold.
"You have to keep the ball underneath the hole at Prairie Dunes," said Woodland, who is in strong contention to compete this summer in the Walker Cup, which pits the best amateurs in the United States against a team of the best from Great Britain and Ireland. The trophy, named after George Herbert Walker, the great-grandfather of President George W. Bush, is vied for in odd-numbered years. The 2007 Cup will take place at Royal County Down Golf Club, Sept. 8-9, in Ireland.
"I'm not thinking about all that, the Walker Cup, having a chance to be named All-American, right now," Woodland said. "If I get ahead of myself like that, it will cost me. I just need to concentrate on playing well here."
Copyright 2018 The Lawrence Journal-World. All rights reserved. This material may not be published, broadcast, rewritten or redistributed. We strive to uphold our values for every story published.