New York — Perhaps disappointed isn't the proper word to describe Carlos Beltran's reaction to tying the Mets' single-season home run record last season. After all, the 41 clouts also were a personal best and, better yet, they helped the team win a division title. But he gladly would have chopped a few of those homers into singles and thereby raised his batting average to .300.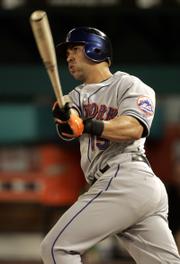 "That's my goal," he said. "I prefer to hit .300 than over 40 home runs."
Why not both? He smiled. "That would be great," Beltran replied, "but I prefer .300."
In his mind, Mets fans have yet to see the player he can be, the player he was as a youngster in Kansas City, when his doubles and stolen bases outnumbered his homers.
He is bigger now, stronger now, yet he still enjoys running the bases - as he did Saturday, when he singled twice, doubled and tripled in a 7-2 victory against Atlanta - more than jogging around them.
"If I hit .300," he said, "it means I'm on base more."
For all he accomplished in 2006, including a club-record 127 runs scored, his batting average lagged at .275. Although that represented an improvement over his taxing first season in New York (.266 and a chorus of boos), it was diluted by two factors. He didn't hit well in the spring (.279 in April and .267 in May) and he didn't hit well at Shea Stadium (.224 for the entire season).
Beltran gloried in the bright sunshine and the 70-plus weather this weekend. "A great day," he called it. "We went out and sweat. This is baseball weather."
Yet the weather was mostly miserable for most of the first three weeks, and Beltran's average is .385. Significantly, although the Mets have played two fewer games at home than on the road and the center fielder has hit all four of his homers elsewhere, he also is batting .385 at Shea.
"I don't keep up with that," he said. "I don't care. It doesn't matter where you produce, the road or at home. I want to just help this team win."
After two full seasons, Beltran appears more comfortable than ever in the ballpark that awaits the wrecking ball, in a batting order that has become so imposing that Braves Manager Bobby Cox likened it to "an American League lineup."
Considering Beltran has hit safely in all but two games this season, it's reasonable to conclude that no player has enjoyed a better April this side of Alex Rodriguez.
Copyright 2018 The Lawrence Journal-World. All rights reserved. This material may not be published, broadcast, rewritten or redistributed. We strive to uphold our values for every story published.