Edina Horvath couldn't quite complete her exhausting comeback attempt in No. 2 singles at First Serve Tennis Center on Sunday, and the Kansas University tennis team was swept by No. 21 Texas A&M;, 7-0, in its season finale.
"I won the second set, and I got more confident," Horvath said. "And in the third set, I just felt like I played hard and tried to do what I needed to do, but I felt I was a little bit tired, and I just started to miss at the end of the set."
The Hungarian sophomore traded games with A&M;'s Elze Potgieter in the third set before finally falling, 6-2, 2-6, 6-4.
"Edina's just been playing tremendous this year. She's come from being (No.) 5 last year to playing in the (Nos.) 2 and 3 spot," Kansas coach Amy Hall-Holt said. "She's just been competing well."
That type of energy encouraged Hall-Holt despite being swept by one of the country's top tennis teams.
"A&M; is ranked No. 21 in the nation, and we were out there and we competed with them today," Hall-Holt said. "I told all the girls that if we take this energy level and the way we competed into the Big 12, there's a good chance we can do some damage in the Big 12. ... It's been a trying year with the injuries and stuff, but ending it in the regular season like we did today with A&M; and the way the girls competed, I couldn't be happier."
KU (4-16, 2-9) put one blemish on A&M;'s victory thanks to the performance of Kunigunda Dorn and Lauren Hommell in the No. 2 doubles match. The Kansas duo knocked off Texas A&M;'s Anna Lubinsky and Nicki Mechem, 8-7 (3).
Photo Gallery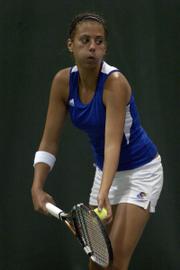 KU tennis vs. Texas A&M
"We just came in with a lot of confidence, and we're clicking now. We've won a couple of matches, and we had nothing to lose today," Hommell said. "Me and Edina lost last year, 9-7, so I felt like we knew who these opponents were and that we could beat them."
Hommell and Dorn now have won three of the five doubles matches they have played together. However, neither Kansas player did much in her singles match. Dorn lost the No. 3 singles, 6-4, 6-4, and Hommell fell, 6-4, 6-1, in the No. 4 singles.
With the match already decided, Stephanie Smith still had a chance to score at least one point for the Jayhawks in the No. 6 singles but slipped up after winning the first set and lost, 4-6, 6-0, 1-0 (9). Smith actually had match point in the tiebreaker but gave up four consecutive points to fall to the Aggies' Marisa Druss.
"Her ankles have been trying her all year," Hall-Holt said. "It's been tough for her out there for what she's been going through,"
It was just the second time this season that Kansas has been swept. The other came at the hands of Baylor on March 30 in Waco, Texas.
KU is riding an eight-match losing streak heading into this weekend's Big 12 Championships in Kansas City, Mo.
"I feel like we are maybe tired a little bit, and that's why it doesn't work very well right now," Horvath said. "Sometimes you miss shots you normally don't miss, so sometimes it just happens."
Copyright 2018 The Lawrence Journal-World. All rights reserved. This material may not be published, broadcast, rewritten or redistributed. We strive to uphold our values for every story published.