Eudora — Eudora resident Alice Kuo is on a journey that might never end. It's a path where her steps are taken by strokes of her paintbrush.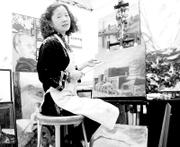 Her progression could be seen by the evolving style of her paintings. Eventually, she wants to reach to the highest ideal of her own expression, she said.
Her quest led her to blend her Chinese heritage and her ongoing American experience.
It also led her to the yellow fields, placid ponds and iconic silos of the Kaw River Valley that surround her Eudora home.
"I took a drawing class, and I had this special project where I had quite a few drawings and scenes of Eudora, and the professor indicated, 'Oh, someone should hire you to do a Eudora documentary,'" Kuo said. "I don't think there is such a documentary."
Although her professor joked, Kuo tapped into the local scenery in different ways to expand her talents as a painter.
She was raised in Kaohsiung, Taiwan, but has lived in Eudora since about 1990.
A series of her works are on display until Tuesday at the Johnson County Central Resource Library, 9875 W. 87th St., Overland Park. The art will be displayed from Thursday to June 28 at the Leawood Pioneer Library, 4700 Town Center Drive.
With her works and weekend jaunts into the Eudora countryside, Kuo wants to emulate the manner in which ancient Chinese painters used to approach painting, she said.
"The paintings strive to express the inner spiritual belief of the ideal world," Kuo said.
Her connection to the Chinese painters, known as the Chinese literati or literal painters, expands to more than the function of painting.
In ancient Chinese society, the art of a literati painter was an aspect of a well-rounded individual, Kuo said.
"They serve their role in society and also cultivate their art when they have leisure time," she said.
Likewise, Kuo's art is just one aspect of her life. She has earned several degrees, including a doctorate in education. She works part time at Kansas University for the Transportation Research Institute and teaches an Asian art history course at Johnson County Community College. She even moonlights as a Chinese language journalist, covering local happenings for the Asian community in the Chinese language World-Journal.
"This is more like a weekend-type activity," Kuo said.
Interspersed with her professional life, she also takes one art course per semester at KU.
She keeps a studio at the Art and Design Building on the KU campus filled with books, works in progress and supplies. Portraits, interior scenes and a light sketch of the Yellow Mountains in China hang at one end, while paintings of Eudora and the surrounding Kaw River Valley can be seen throughout the studio.
Through them, she can point to her evolving style.
Her subject matter has ranged from isolated farmlands to bends in the Kansas River to the blue silo at Eudora's Intech Business Park.
Her largest piece, a 60-inch-by-40-inch landscape currently on display, reflects her early style, she said.
"At that point, I was driving for color and for more realistic depictions of things," she said.
As time passed, she's focused more on abstract expression. Books with work by Henri Matisse and Richard Diebenkorn lay on a table in her studio next to an unfinished painting.
Although her method of translating a scene onto canvas has changed, the way she searches for pictures remains constant.
When she goes off on her own, she focuses on back roads, Kuo said.
"I just want to find something near in the country. I try to find angles that appeal to me," she said.
She looks for contrast of light and shadows or a particularly striking composition while searching for paintings, she said.
"I like to take cameras and take pictures and then try to form my scene in a way that I can copy the scene," Kuo said.
She attempts to make connections with local farmers in order to feel comfortable while painting. By meeting people while painting, she has developed friendships with those in the community, she said.
"I find people are very friendly," she said.
Copyright 2018 The Lawrence Journal-World. All rights reserved. This material may not be published, broadcast, rewritten or redistributed. We strive to uphold our values for every story published.