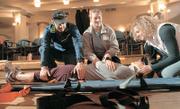 Junior high students are pretty picky about what they like to do.
That's what Mary Olive Thompson has found as she's planned activities for the Wednesdays at Liberty Hall (W@LH) after-school program in downtown Lawrence.
"It's been a huge learning curve," said Thompson, the part-time project coordinator for the program.
Success can be seen in the numbers.
"We've had anywhere between nine and 120-some students," Thompson said. "The average is 50."
Not everything works. For example, a video shown in mid-March didn't get a lot of takers - mainly because of the weather.
"It was beautiful, so the kids wanted to be outside," Thompson said. "I sent some of the volunteers out. So the whole group went over to the park and played kickball. : The challenge of the program is to be where the kids are. If they want to be outside, then we should be outside."
The program, which began in August 2006, was created to give junior high students a safe and supervised place to go downtown on Wednesdays, when schools have early-release hours to allow for teacher collaboration and training.
It was funded through a $50,000, two-year Community Impact Fund grant provided by the United Way of Douglas County to GaDuGi SafeCenter.
The program also is intended to address concerns by some downtown merchants that students were lingering downtown and causing disruptions.
Monica Istas, owner of Penny Annie's Sweet Shoppe, 845 Mass., said she has noticed a difference since W@LH started and since more Lawrence police officers come downtown during those early-release days.
"I don't want to speak for everybody, but for myself, I get less just ganging up in here," Istas said. "And that's what really causes the trouble. Kids get to cussing. And there's other customers, and little kids and things like that."
She said there also used to be some thefts.
"When there's groups of kids, it's harder to watch them so that they don't steal," she said. "That's calmed down somewhat."
Across the street at Fun & Games, owner Kyle Billings said he also no longer has problems. But that also could be because he moved his business to the second floor of the Antique Mall, he said.
"We've seen a decrease in the amount of kids just roaming through the store," he said. "I don't see a problem at all."
The W@LH project is run by GaDuGi SafeCenter, but also has 37 community partners, consisting of businesses and organizations in Lawrence that provide volunteers.
The majority of students are coming from Central Junior High School, but some students have walked all the way from South Junior High School, Thompson said.
"We are always doing something different," Thompson said. "Some things succeed. Some things fail. I can't really say it's an experiment. But we're learning about what the students like and are engaged in. That's been a huge part of the process."
She said the biggest successes have been concerts with local youth bands.
Students don't like anything where they have to sit still and listen to a presentation.
"A film hasn't been very successful or presentations haven't been very successful," Thompson said. They prefer "activities that require them to be up and engaged in talking and doing something with their hands or being creative."
For example, Hand to Hand Studios did a program involving making sock monkeys that was popular, she said.
"They did that three weeks straight, and every week they had probably 15 to 20 students with them making sock monkeys," she said.
Upcoming events include:
¢ A youth film festival May 9.
¢ A scavenger hunt through downtown Lawrence on May 23.
For more information on the program and the schedule of events, go to www.walhonline.org.
Copyright 2018 The Lawrence Journal-World. All rights reserved. This material may not be published, broadcast, rewritten or redistributed. We strive to uphold our values for every story published.