After Lawrence High's Courtney Barber missed her three attempts at 5 feet, 7 inches in the high jump at the Kansas Relays, she promptly went off to prepare for the 1,600-meter relay.
But Barber was called back to the high-jump area just as quickly as she had left because of the inability of Olathe East's Ashley Reid to clear the mark as well. That opened the door for Barber to win the event after both girls missed attempts at 5-6 and 5-5.
"It was a pretty weird deal," LHS track and field coach Jack Hood said. "She was pretty excited to win - under some weird circumstances. She gave it the old fist-pump and was pretty excited to get it."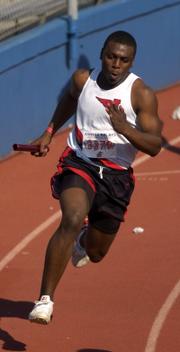 However, she still had that relay to run, and in the fifth heat she helped the team qualify for the finals today with a finishing time of 4:04.07.
All of that came after she anchored the Lawrence shuttle hurdle relay team. She and teammates Kim McDonald, Jessica Garcia and Emily Bracciano finished in eighth in 1:14.17. Barber also took fourth in the 300 hurdles with a season-best time of 45.96.
"She has a chance to get four medals total, which is pretty good for the Kansas Relays," Hood said.
Lions' Kevin Logan also competed well in the high jump. His jump of 6-6 earned him a tie for third place.
"I could have done better, that's all," Logan said. "That's pretty much all I have to say about that. The pavement was so hot, my spikes couldn't stick into the pavement so everyone was sliding, and was messing everyone up."
While Logan was upset with his finish, Hood said Logan still had plenty of time to improve.
"This is the best he's done all year," the Lawrence coach said. "He's not where he wants to be, and he's not where we need him to be. But we don't need him to do it at all at the Kansas Relays, but at state. So all of his goals are still intact, but, hey, he jumped well and placed."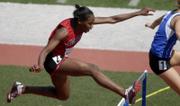 Lawrence's Brian Houle had the best showing in the javelin with his eighth-place finish with a throw of 184-8, a personal record (P.R.).
"He P.R.'ed by almost four feet, so it was nice for him," Hood said. "He won the first flight and had to beat out four kids in the next flight and then improved in the finals. So he had a good day."
Free State wasn't quite as well represented on the medals stand.
The Firebirds' best showing came from the boy's shuttle hurdle relay team of Tim Meutz, Eddie Presswood, Todd Lee and Shelton Heilman. The team finished fourth with a time of 1:06.21.
Free State's Ashley Sakamura came up a spot shy of Lawrence's Abby Jones in the pole vault. Jones was able to clear 10-6 for a 10th-place finish, while Sakamura finished 11th with seven other participants that cleared 10-feet.
¢Eudora euphoria: It was just a normal day at the track for Eudora High's Emily Ballock in the 300 hurdles. Ballock won in 44.56.
"I was expecting to get first, but I knew that it would be hard because there was a good field of all areas, all the surrounding states," Ballock said. "So I couldn't take anything for granted and still had to run really hard."
Fellow Cardinals runner, Brittney Graff also had a good showing in the 3,200, coming in fourth in 11:16.90.
¢Tongie throwers successful: A couple of area high schools had strong individual showings at the Kansas Relays, particularly in the field events. Tonganoxie High placed two girls in the top five in javelin, with Ali Pistora taking second with a throw of 146-6 and Roxi Grizzle in fourth at 144-10.
"I didn't really think of it as a competition - you just rely on yourself," Pistora said. "But I think we did pretty good overall. It was a good day."
Tonganoxie also had another top-10 thrower in the shot put. Ronnie Grizzle's was ninth at 39-11.5. Tongie's Traci Hileman tied Free State's Brooke Carter - along with three other athletes - for 10th in the high jump by clearing the bar at 5-1.
THS was impressive on the track as well, with the shuttle hurdle relay team of Rachel Bogard, Abby Eisman, Jennifer Wagner and Hileman finishing fourth in 1:08.56. Mill Valley's Sara Exon, Bethany Gagelin, Alaina Fairbanks, Kirsten Moore and Katie Bauer were right behind at 1:09.45.
De Soto's Jackie Goleman cleared 5-3 to tie for fifth in the high jump.
Copyright 2018 The Lawrence Journal-World. All rights reserved. This material may not be published, broadcast, rewritten or redistributed. We strive to uphold our values for every story published.