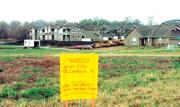 Back in the mid-1990s, when Lawrence's school board first picked a 67-acre agricultural site in northwest Lawrence for a second high school, it lit the fuse on a development explosion still being felt today.
"The school district picked a site that was prime for development," said Debbie Van Saun, assistant city manager.
Just drive out in the area and you'll see the results: hundreds of new homes to the north, east and west of the 10-year-old Free State High School campus, plus several new restaurants and service businesses along Sixth Street.
"You see a lot of the fast food and other businesses that cater to the snacking and lunch needs of the student populations there," Van Saun said.
Also coming up is a plan for a "new urbanism" mix of residential and business development that's in the works, called Bauer Farms. It's in an area just south of Free State, bordered on the north by Overland Drive, on the east by Folks Road, on the south by Sixth Street and on the west by Wakarusa Drive.
And lingering in the background are continuing efforts by Wal-Mart to build a store on the northwest corner of Wakarusa Drive and Sixth Street. Developers have sued the city for denying building permits for the store. A trial was to begin in mid-April.
Van Saun and other city officials have declined comment about Wal-Mart's plan, pending litigation.
Attracting homes
Van Saun said it's pretty typical for residential development to be attracted to a new school. For example, she said, the city has seen increased growth in southeast Lawrence since Prairie Park School opened in 1994.
"Some of the development can be associated with folks wanting to be in that area," she said.
Lawrence city commissioner Mike Amyx agreed much of the growth in northwest Lawrence could be attributed to the decision to build a second high school there.
"We knew there were a lot of kids at Lawrence High School and the need for a second high school was going to be there, and, on the horizon, the development was going to come," he said.
After voters approved the $25.8 million bond issue for the second high school in 1994, plans moved ahead quickly to acquire property.
In March 1995, after four months of negotiations, taxpayers bought a 67-acre slice of the Henry C. Bauer family's farm for $1.3 million, or about $19,000 an acre.
A final plat for the property was approved in 1995, with 60 acres dedicated to the school: an L-shape, two-story building with 245,000 square feet - slightly smaller than Lawrence High School.
The school campus plat included a tennis court, two soccer fields, a baseball field, two softball fields, a track and football field, and some 1,034 parking spaces.
"There have been great amounts of development and expansion in that area," Amyx said. "We've obviously seen not only the expansion of new homes, new businesses in the area, (but also) discussions of new businesses in the future and new developments to the west and to the north."
Amyx said the city also has dealt with infrastructure improvements in that area to accommodate growth.
"There are folks that obviously like to live close to schools and close to businesses," Amyx said. "That area really was ripe for development. I don't know if the school promoted it or if it was just the location itself. But it has made a major impact on that area."
Amyx said further growth will be coming.
"I think we're going to continue to see development pressures in the area," he said. "And, along with that, we're going to see requests for new housing, whether it's owner-occupied or nonowner-occupied. That's going to create a greater impact on the school itself and on the businesses in the area. I just think we're going to continue to see development in the area and continue to prepare for it."
Not prepared
David Guntert, a longtime city planner for the Lawrence-Douglas County Metropolitan Planning Commission, said the city wasn't prepared for the high school in that location back in the mid-1990s.
"Time flies. It doesn't seem like it's possible it was that long ago it was built," Guntert said. "The location where the school district chose to build the school had, prior to that time, not been an area where the city had anticipated growing."
And that led to a number of challenges, he said.
"First of all, how to provide the utilities that the school would need," Guntert said. "We had not planned for growth up there because it was in a different sewer drainage basin, which, up to that point in time, had been off-limits to development."
And, as a result of the school's construction, there have been a lot of housing developments near the high school.
"That whole northwest area, north of (U.S.) Highway 40 and west of Folks Road, has opened up to development as a result of the decision to build the high school north of the highway," he said.
Guntert said that led to the controversy last year because the sewer system was not able to handle the residential growth, thus causing developments to be stalled last year.
Last fall, the so-called "sewer crisis" died down when the city approved a $9.8 million contract to build a new pump station to serve the area and its expected growth.
The cost will be shared by the city and developers.
"That whole issue of the infrastructure to accommodate growth up in that northwest area is one that exists because of the high school location," Guntert said.
Copyright 2018 The Lawrence Journal-World. All rights reserved. This material may not be published, broadcast, rewritten or redistributed. We strive to uphold our values for every story published.