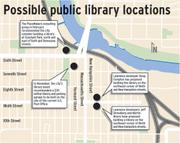 Those waiting for the final page to be turned on the discussion to build a new Lawrence Public Library will have to wait a little longer.
City commissioners have committed to hold up on any new library discussions until the new city commission that took office earlier this month gets settled. Commissioners have said that they want to have a study session that details all the major capital improvement and maintenance projects that the city is facing so that they can rank the need for a new library against those projects.
"Part of the problem is we keep talking about prioritizing, but we really haven't sat down and done it," City Commissioner Sue Hack said in February when commissioners put the project on hold.
Bruce Flanders, executive director of the library, also has said that he expects the city's library board to reconsider a recommendation to build a new $30 million library and parking garage on the current site of the U.S. Post Office at Seventh and Vermont streets.
The library board in late November recommended the city move forward on that project, which has been proposed by members of the Gene Fritzel Construction Co. It would include a 94,000 square foot library, which is more than twice the size of the current library but about 20,000 square feet less than what library staff members previously had lobbied for. The facility would include at least 260 underground parking spaces beneath the library.
The post office would remain downtown. Postal officials have been considering moving into a portion of the former Riverfront Mall building near Sixth and New Hampshire streets. The ownership group of that building includes members of the management team of The World Company, which publishes the Journal-World.
The Fritzel group also is proposing to undertake about $100 million worth of private retail, residential and office development in the 600, 700 and 800 blocks of Vermont Street during a 10-year period. The private development would include an expansion of the historic Eldridge Hotel, and could include new conference space for downtown.
Flanders said the library board will have the option of re-reviewing three other proposals to build a 94,000 square foot library and necessary parking on other downtown sites. The plans that previously had been submitted included: a proposal by Lawrence developers Jeff Shmalberg and Martin Moore to build the library on the southeast corner of Ninth and New Hampshire streets adjacent to the Lawrence Arts Center; a plan by Lawrence developer Doug Compton to build the library on the northeast corner of Ninth and New Hampshire streets; and a plan to rebuild a larger library on the current library site at 707 Vt.
One plan that may not receive much consideration is an idea from the PlaceMakers consulting group that in February recommended the city look at a site in Constant Park, which is directly north and east of Sixth and Tennessee streets and abuts the Kansas River. Several commissioners have said they have concerns about that proposal, ranging from possible flooding issues to questions about whether the site is adequately part of the downtown.
Whether the community ends up moving forward on any library site is still an open question. City commissioners have agreed that the issue of a $30 million library should be decided directly by voters as part of a citywide election.
But before it gets to an election, city commissioners would have to decide whether they should propose paying for the library through a sales tax or through property taxes.
City Manager David Corliss has estimated that it would require about 4 mill property tax increase to cover the construction an operation of a new $30 million library. A mill is one dollar in property tax for every $1,000 worth of assessed valuation in property that a person owns.
Corliss has estimated that anywhere from a 0.15 percent sales tax to a 1 percent sales tax could be used to pay for the library, depending on the number of years the city wanted to finance the project.
Copyright 2018 The Lawrence Journal-World. All rights reserved. This material may not be published, broadcast, rewritten or redistributed. We strive to uphold our values for every story published.