After Egor Agafonov launched his second hammer throw at Thursday's Kansas Relays, he walked toward the applauding crowd, smiled and gave a thumbs-up to two fans draped in the Russian flag and holding a sign that read, "Go Russia. Egor is champion."
The sign was accurate.
Agafonov dominated the men's hammer event with a winning throw of 227 feet, 5 inches. It was Agafonov's best throw of the season and second best in Kansas Relays history.
Support for the junior hammer thrower came from various places. One student rolled down his car window and yelled, "Yeah, Egor!" as he left Memorial Stadium's parking lot.
The most loyal support, though, came from the individual holding the sign: KU men's basketball junior Sasha Kaun.
"I'm glad that he comes here and watches me in competition," Agafonov said of Kaun. "It's really nice. All the guys who I wanted to watch me were here."
KU junior engineering student Aurom Mahobian accompanied Kaun with the Russian flag.
"He was awesome," Kaun said of Agafonov. "He has great technique. I don't know much about the hammer throw, but I've been learning from him what it's all about. I think he's very confident out there."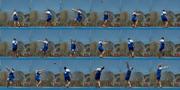 Agafonov's confidence was evident. His pregame routine was like watching a home run hitter take batting practice. Most competitors took three warm-up tosses before competition. Agafonov only took two and generated excitement from the crowd with his home-run-like length. He spent the rest of the time pacing about five feet away from 11th and Mississippi Streets. He was relatively secluded before his name was called.
"I try to be warm during the meets," Agafonov said. "I need it as part of my routine."
No one came within 20 feet of Agafonov's winning throw, which was the fourth-best throw in the nation this year. Chris Rohr, who competed unaffiliated, had the second-longest throw of the day at 207-02 feet.
"I felt that I could win, but it's hard to predict because there's lots of good guys who are all strong," Agafonov said. "It's pretty tough competing with them."
Issar Yazhbin (200-07 feet) was the only other competitor to surpass the 200-foot plateau.
Agafonov, currently ranked No. 5 in the nation by trackwire.com in the hammer, had high expectations.
"Our goal for this meet was to consistently throw 220 feet, which he did," second-year throws coach Andy Kokhanovsky said.
Agafonov's technique clearly contributed to his lengthy throws. The Sarapul, Russia, native rapidly spun around three times considerably faster than his competitors before releasing the hammer. Five of Agafonov's six throws elapsed 220 feet.
"He gotten a lot stronger since he got here," Kokhanovsky said. "We worked on some technical problems he never got to fix back home. By improving that, hopefully he's going to get better and be ready for nationals in May."
As for Kaun, the Tomsk, Russia, native said he was proud of Agafonov's accomplishment. Now he just needs to get his fellow countryman on the basketball court.
"He's been telling me he can play some ball," Kaun said. "We have to do something about that this summer when he's done with his studies."
Copyright 2018 The Lawrence Journal-World. All rights reserved. This material may not be published, broadcast, rewritten or redistributed. We strive to uphold our values for every story published.