Rio De Janeiro, Brazil — Gangsters with automatic weapons shoot it out with police in broad daylight near downtown. Parents use their bodies to shield children on their way to school. Passengers on buses stuck in traffic hit the floor as bullets shatter windows.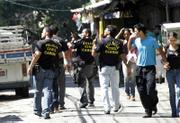 A day after terrorizing gunbattles left at least 19 criminals lying dead in the streets, Brazilians grappled Wednesday with a shocking image of how far Rio de Janeiro has sunk into violence as Brazil prepares for a papal visit next month and the Pan American games this summer.
"You can't protect yourself," said Jorge Henrique dos Santos, who was grazed in the head by a stray bullet that tore into a bus. "How can you protect yourself if you get shot just sitting on a bus?"
Authorities sought to reassure the public about the ability and willingness of police to control violence, stressing that only members of drug gangs died in the shootouts, which saw some gunmen blazing away while clad in Bermuda shorts and others without shirts.
"We cannot in any way permit criminal factions to carry out war maneuvers in the city center of Rio de Janeiro using weapons and equipment with a highly destructive capacity," said State Security Secretary Jose Mariano Beltrao.
The worst bloodshed was in the Mineira shantytown, where 13 people died. Officials said two were killed by police and the rest died in fighting between rival drug gangs.
They said the Friends of Friends gang was trying to wrest lucrative drug-dealing spots from the Red Command gang, which controls the hillside slum.
Six other alleged drug gang members died in a separate, and apparently unrelated, confrontation with police on the poor north side.
The daytime battle in Mineira was mostly remarkable because it provided a rare good look at the urban warfare that rages almost nightly in many of Rio's 600 shantytowns, where most of the 3,000-plus annual homicides occur in the city of 6 million people.
"This is a common occurrence, (but) when it happens on the city's outskirts it doesn't have as much impact. This is just the latest in a string of traumatic incidents that has raised the perception of insecurity," said Joao Trajano Sento-Se, a Rio de Janeiro State University professor who studies trends in violence.
Sento-Se said that while such incidents have added to the climate of fear, it isn't clear yet from statistics that violence is rising.
This long-violent city has been rocked by a series of highly publicized attacks in recent months, the most shocking of which was the February dragging death of 6-year-old Joao Helio Fernandes after robbers stole his family's car and he got stuck in the seat belt trying to get out.
Polls say violence has overtaken unemployment as the chief concern of Brazilians, a growing number of whom are calling for a restoration of the death penalty and for new laws that would allow juvenile offenders to be tried as adults.
Rio is one of the world's most violent cities, with an annual homicide rate of around 50 per 100,000 residents. While the murder rate in upscale districts is comparable to other big cities, the toll in shantytowns rises to around 250 per 100,000, a rate rivaling many war zones.
The governor of Rio de Janeiro state, Sergio Cabral, has asked the federal government to send in the army to help contain the heavily armed drug gangs that rule most Rio shantytowns. President Luiz Inacio Lula da Silva has agreed in principle but details haven't been worked out.
Even as Cabral and other leaders sought to calm fears over Tuesday's events, 150 police officers invaded the Pavao-Pavaonzinho shantytown, which looms over the Copacabana beach district, and exchanged gunfire with drug gangs. No deaths or injuries were reported Wednesday.
Copyright 2018 The Associated Press. All rights reserved. This material may not be published, broadcast, rewritten or redistributed. We strive to uphold our values for every story published.