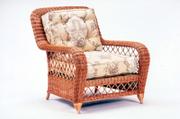 Now that spring's here, you may be looking to energize your home's decor. Woman's Day magazine offers these spring-inspired redecorating ideas:
¢ Bring a piece of outdoor furniture inside. Wicker, wrought iron or weathered wood adds a sunny look to a room.
¢ Undress the windows. Take down heavy draperies and put up airy, crisp white sheers that are easily cleaned in the washing machine.
¢ Change the throw pillows. It's one of the simplest, most affordable ways to freshen up a room. Look for pillows at mass merchants like Target or Kmart. Or make your own easy covers: Glue ribbons to the sides of two placemats or large napkins and tie them around your pillows.
¢ Re-accessorize. Exchange heavy, dark brass, copper or wood accessories for lighter pieces such as clear glass, floral-pattern china or white ironstone.
¢ Display nature. Start saving glass jars or interesting bottles to serve as vases for fresh flowers. If you're a tag sale or flea market fanatic, look for antique teapots, old water pitchers, crockery or teacups to use as containers for an impromptu centerpiece. Or set out a pretty tray of assorted mini-vases filled with colorful posies for a touch of whimsy.
Copyright 2018 The Lawrence Journal-World. All rights reserved. This material may not be published, broadcast, rewritten or redistributed. We strive to uphold our values for every story published.