Sophomore slump? What sophomore slump?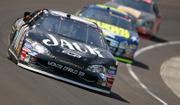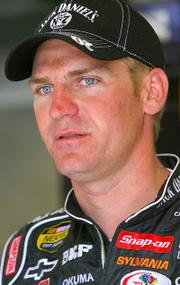 Clint Bowyer has shown no signs this season of the second-year drop-off so many Nextel Cup Series drivers experience after their rookie seasons.
Bowyer doesn't have a Cup win this season like his Richard Childress Racing teammates Kevin Harvick and Jeff Burton and he doesn't have a finish better than sixth, but his remarkable consistency through the season's first seven races leaves him sixth in points entering Saturday night's race at Phoenix.
He has three top-10 finishes in the first seven races and has only finished outside the top 20 once. He has a 13.4 starting average and a 14.4 finishing average. The 27-year-old native of Emporia, Kan., has completed 2,353 of the 2,382 laps run this season (98.78 percent).
Over the same seven races last season, Bowyer's average start was 26.6 and average finish 18.9. He was 13th in points entering this race one year ago.
"The difference between this year and last year is the finishes. We ran well but we just couldn't get the finishes. I'm starting to learn the car and starting to learn how to communicate with Gil (Martin, crew chief) a lot better," Bowyer said.
"We're just learning each other better and experience is key especially when you're racing against these guys."
Although he has not been a vocal fan of NASCAR's "Car of Tomorrow," Bowyer has finished eighth and 11th at Bristol, Tenn., and Martinsville, Va. - the first two races the car has been used. Bowyer's No. 07 Chevrolet team is planning to use the same car again this weekend at Phoenix.
"I expect things to be a little wild at (Darlington and Dover), but I'm really looking forward to Phoenix, especially considering how well we came out of Bristol and Martinsville," he said. "I wasn't a big fan of the 'Car of Tomorrow'' but we seem to run good in it.
"As long as that stays in effect, I guess I can start liking it."
Bowyer's RCR teammate, Harvick, won his first race of the season last year in this race, but Bowyer also performed well, finishing fifth and leading 21 laps - his first as a Cup driver.
"That was our first big finish as a team. I really like the short tracks. Bristol and Martinsville haven't been my favorite places and we ran really well there," Bowyer said. "Traditionally, Phoenix has been a good track for us so, hopefully, history will repeat itself and we can put ourselves in position to race for a win.
"It's a racy track. It reminds me of driving a dirt car. You have to carry a lot of momentum through the center of the corner, be able to get the car pointed, drive it straight and have a good drive up off.
"It's a fun racetrack. I like it and that usually helps a little bit."
Bowyer attributes his increasing experience as the biggest factor in his better start this season.
"Last year it seems like we all did pretty good and then we got to the tracks that we've never been to before. Then we were all in the back, in the fence, or wrecked," he said.
"It's been a big challenge to learn those tracks and coming into this year there are no more excuses. There's no more, 'I'm a rookie, this is my first time.' You've got to make the best of it and you've got to get it done."
Copyright 2018 The Lawrence Journal-World. All rights reserved. This material may not be published, broadcast, rewritten or redistributed. We strive to uphold our values for every story published.