All skids come to an end. The only question is when.
Kansas University's softball team remained in a scoring slump following 3-0 and 1-0 losses to Missouri on Wednesday afternoon at Arrocha Ballpark.
"We need to ride it out and get some breaks," KU senior pitcher Kassie Humphreys said.
KU's string of shutout losses reached four. Texas A&M; blanked the Jayhawks twice last weekend, also at Arrocha.
"We are not coming through with clutch hits," KU coach Tracy Bunge said. "Our hitters are going up there and trying too hard."
Wednesday's double dose of goose eggs was particularly disappointing because Missouri's pitching staff ranks last in the Big 12 Conference in earned-run average. In contrast, A&M; boasts one of the league's top mound staffs.
Kansas collected nine hits on the day against MU hurlers Jen Bruck and Jana Hainey, but all were singles. Kansas stranded 12 runners in the 14 innings.
"It was a step forward getting people on base," said senior first baseman Nicole Washburn, who had three of the Jayhawks' nine safeties. "Now we've got to bring them around."
In Wednesday's second game - the first was a make-up of last Wednesday's rainout in Columbia, Mo. - the Jayhawks out-hit Mizzou, 6-4. KU placed its leadoff hitter on base in two innings and had a runner on base with one out in another frame, only to shoot blanks.
"That game was extremely frustrating," Bunge said, "because we deserved to win in every way except on the scoreboard. Kassie was tremendous."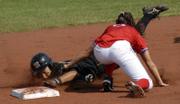 Mizzou boasts one of the conference's most potent offenses, yet Humphreys held the Tigers to just four singles, fanning seven.
"It's just really frustrating how I feel," Humphreys said. "That was a game you thought you would win."
Missouri snapped a scoreless deadlock in the top of the seventh. The Tigers loaded the bases on a single, a sacrifice, an intentional pass and a walk with one out. Then Humphreys fanned leadoff hitter Leanne Bowers for the second out.
Minutes later, with Julie Silver at the plate, Humphreys threw high and wide to the left-handed hitter, and the ball bounced off catcher Tiffany Craner's glove, allowing the game's only run to score.
Missouri remained in contention for the league championship by hiking its record to 8-1 (32-18 overall) while Kansas slipped to 3-8 in the Big 12 and 27-18-1 in all games.
Copyright 2018 The Lawrence Journal-World. All rights reserved. This material may not be published, broadcast, rewritten or redistributed. We strive to uphold our values for every story published.