As Josh Kirk and Jacob Breth turned the final corner of the 400-meter dash, Kirk couldn't help but hear Breth grunt from behind him.
The two Kansas University track and field athletes dominated the final heat of the dash, but the rookie got the better of the veteran by a tenth of a second during the first day of the decathlon competition Wednesday at the Kansas Relays.
It's the first time Breth, a freshman, ever has competed in a decathlon. He edged his teammate by a step.
"In the last 100, I felt that I could do it," Breth said of winning the second heat in a time of 50.95 seconds. "I pushed myself as hard as I could. I felt like collapsing at the end, but it was worth it."
After the first day of competition, Breth is in fifth place with 3,343 points.
It was the junior Kirk, though, who stole the show Wednesday. He leads the field of nine entrants with 3,686 points heading into today's final five events. Kirk set personal records in the shot put (12.22 meters) and high jump (1.96 meters) Wednesday.
Bad news for athletes looking to overtake Kirk today: Of the remaining five events, the last three - pole vault, javelin and the 1,500 - are considered his specialty events.
"I don't think I need to get comfortable, but tomorrow's my strong day," Kirk said. "Usually in Big 12 meets, I'm not usually leading after day one. I usually catch back up with everybody at the pole vault."
Kirk should provisionally qualify for the NCAA Championships, which require a total score of 7,000 points. Kirk is currently on pace to score 7,372. An automatic qualification requires 7,500.
Kirk primarily trained for the decathlon with third-year KU assistant coach Tom Hays. Hays noted favorable differences with Kirk after Wednesday. He said Kirk finished 300-400 points better than he's ever been in an early decathlon. Furthermore, Kirk weighed 155 pounds at this point last year. He currently weighs around 170.
Photo Gallery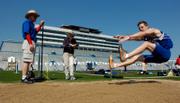 KU Relays 2007, day 1
"In a decathlon, weight is important," Hays said. "He was just a skinny, bouncy kid. Now we're adding weight and he's adding horsepower."
Wichita State's Chris Dickman is currently Kirk's biggest threat at 3,616 points. Dickman's teammate, Justin Taylor, has 3,515 points after day one.
The 110 hurdles will start today's second day of competition at 8:30 a.m. The 1,500 will conclude the decathlon at 4:20 p.m.
Kansas University freshman Chelsea Helm was the only Jayhawk who participated in the heptathlon at the Relays. The Tulsa, Okla., native is currently in eighth place out of 10 participants after the first day with 2,282 total points.
Helm performed especially well in the shot put, throwing her second-best shot of the season at 10.23 meters. She ran into solid competition in the 200 dash and finished 10th. Oddly enough, Helm said she preferred the lengthier 800, scheduled for 12:30 p.m. today.
"I'm more of a long-distance runner, so I can hang in there a lot longer than most girls," Helm said. "I know what it takes to do the 800. I'm more familiar with it, so I just enjoy it. It doesn't intimidate me."
Helm said for her first heptathlon, the goal was consistently scoring points and not disqualifying in any event.
Nebraska University's Casie Witte has the lead after Wednesday with 3,169 points. Alecia Beckford-Stewart of Illinois is in second place with 3,035.
The long jump will start the heptathlon at 9 a.m. today. The event will conclude with 800.
Copyright 2018 The Lawrence Journal-World. All rights reserved. This material may not be published, broadcast, rewritten or redistributed. We strive to uphold our values for every story published.