New York — Liviu Librescu's casket came Wednesday afternoon to a place he had never been.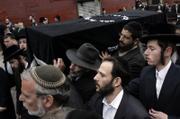 In the heart of Borough Park, Brooklyn, the unadorned wooden casket was shouldered by Jewish men who had not known the science professor but whose fathers and grandfathers were, like Librescu, Holocaust survivors.
Here, Librescu's wife, far from her Virginia home, spoke to those who had never met him. "He was a very human person. He was a hard man also. He wanted everybody to be 100 percent," said Marlena Librescu, 72. "His life was only his family and his students."
Mourners inside the nondescript hall of Shomrei Hachomos Orthodox Chapels spoke in awe of Librescu's efforts to block a gunman from entering his classroom, allowing an untold number of students to flee.
With bursts of gunfire rattling through the second floor of Norris Hall, Librescu, 76, closed his classroom door and urged his students to escape out the windows, senior Caroline Merrey, of Baltimore, the third student to jump, said earlier this week.
As they fled, Librescu held the door shut with his body as the gunman, 23-year-old senior Cho Seung-Hui, tried to force his way in.
Moments after the last student leaped to safety, Cho apparently succeeded in forcing the door open and shot Librescu to death.
"We all know in our community that to save one life is to save the world," said City Councilman Dov Hikind, a frequent spokesman for the Orthodox Jewish community in Brooklyn, the largest in the nation. "Look at the final act of Professor Librescu."
Outside the building, the kaddish, the Jewish prayer of mourning, was hummed by hundreds as the casket was placed into a black car. Some noted that the professor was killed on Holocaust Remembrance Day.
Librescu's body is being flown to Israel for burial.
Other bodies held
Back in Blacksburg, Va., frustrated family members were unhappy Wednesday with news that they still could not see or claim the bodies of students killed in Monday's Virginia Tech shooting rampage.
A lengthy official identification process has prevented friends and relatives from the next step in their grieving, and it has delayed arrangements for funerals out of state or, in some cases, overseas.
University President Charles W. Steger met with families gathered at The Inn at Virginia Tech on Wednesday and delivered the frustrating news that most of the victims' bodies could not be released for burial.
So far, nine of 32 victims' bodies have been identified and released.
Joe Samaha's daughter Reema Samaha, 18, was killed in Norris Hall, and by Wednesday evening, he still had not seen her body. "The beginning of closure is when we will be reunited with our daughter, to be able to see her, kiss her, touch her," said Samaha, 51, of Centreville, Va. "I continue to advocate for my family and other families to see the bodies of our children."
Virginia's chief medical examiner, Marcella F. Fierro, who met with victims' families Tuesday, has said she needs "scientifically validated proof" of the shooting victims' identities.
The Virginia Department of Emergency Management considers "face identifications" by loved ones "unreliable," especially when families are under stress and prone to mistakes, according to a statement released late Wednesday.
Instead, investigators asked families to provide fingerprints for those believed dead and might request dental records, too, the statement said.
"We want to err on the side of caution," said Bob Spieldenner, a department spokesman who was at the inn Wednesday. "It is frustrating for the families, but we want to be right and not cause undue grief for them."
Copyright 2017 The Lawrence Journal-World. All rights reserved. This material may not be published, broadcast, rewritten or redistributed. We strive to uphold our values for every story published.