You'd have a tough time finding anyone at this weekend's Kansas Relays busier than Brooke Carter.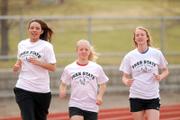 The Free State High junior will compete in the high jump Friday, then dart to the airport to catch a plane to Texas for a club volleyball tournament.
Carter, who will compete in her second Relays, has positive memories from last year's meet. She set a personal record in the high jump last year at Memorial Stadium, leaping 5 feet, 2 inches. Carter's highest jump this season is 5-1, but the rainy weather recently has canceled meets or inhibited her potential.
This weekend is calling for sunny weather in the 70s. Carter said she'd aim to tie or break her personal record Friday. Focus will be pivotal.
"Coach (Steve) Heffernan doesn't have us watch the other jumpers," Carter said. "You have to focus on everything that you're doing."
The girl's high jump is scheduled for 5 p.m. Friday.
Three other Firebirds - seniors Ashley Sakumura and Lindsay Simms, and sophomore Kyra Kilwein - will compete individually this weekend.
Sakumura's situation is particularly interesting when you consider she just took up track and field last season. She will compete in the pole vault at 9:30 a.m. Friday in her first Relays experience.
"A year ago, she didn't understand what the KU Relays were outside of a big track meet," Heffernan said of Sakumura. "Now she's talking to schools about vaulting next year."
Sakumura is considering Fort Hays State and Ottawa University as possible destinations to vault next season.
If you're wondering how the senior pole vaulter had so much early success, look no farther than her gymnastics background.
"Most gymnasts are good at pole vaulting," Sakumura said. "Body awareness is huge in gymnastics. There are skills on the uneven parallel bars that are the same movements in the pole vault. Strength is a big thing, too."
To put her progress into perspective, Sakumura said she vaulted about 8 feet at this time last year. This season, she's peaking at the right time heading into the Relays. Sakumura vaulted a personal-best 10 feet at the Blue Valley Relays last week.
Kilwein is arguably the top up-and-coming athlete for the Firebirds this season. The sophomore will compete in more events than any Free State girls athlete this weekend. Kilwein will compete individually in the 3,200 meters at 11:30 a.m. Friday and the 1,600 at 4:55 p.m. Saturday. She'll also compete in the girls distance medley and the 4x800-meter relay events.
"She's starting to race on a bigger stage," Heffernan said of Kilwein. "There isn't a bigger stage than the Kansas Relays. As far as the atmosphere, nothing matches it in any high school event I can think of."
Simms will compete in the girls discus at 8 a.m. Saturday. This will be Simms' second Relays meet. She also competed as a sophomore.
"Lindsay has been doing track and field for as long as she can remember," Heffernan said. "For her to make the field is really special. It's a great reward for someone who's worked so hard."
Copyright 2018 The Lawrence Journal-World. All rights reserved. This material may not be published, broadcast, rewritten or redistributed. We strive to uphold our values for every story published.