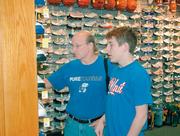 Parents want their kids to be competitive when playing sports. So much so that in some cases when faced with a choice of buying a $300 bat or a $30 bat, some parents choose the higher priced bat so their child can have every advantage when they step onto the field of play.
Over the course of one year, it is not uncommon for parents to spend thousands of dollars on their children's youth sports activities. Those costs generally include league fees, tournament fees, equipment, travel expenses and the like.
But that's where some parents draw the line.
While some parents opt to spend thousands, others spend far less. Some view spending thousands of dollars on playing sports as an option, not an obligation.
"It depends on how serious you want to get with it," said Lawrence Coyotes wrestling coach Ron Covert.
Wrestlers have to pay for their own shoes, uniform and head gear and can do so for a discounted price at Francis Sporting Goods. Wrestlers also on occasion pay the expensive doctor visits that can occur from everything from broken thumbs to ringworm.
Covert said that all told, the family spends about $100 a week so their two kids, Ryan, a junior at Lawrence High, and Payton, a seventh-grader at Southwest Junior High, could wrestle. But Covert said that the main cost comes from tournament fees and travel expenses.
At the end of March, the Covert family traveled to Detroit, Mich., to watch Payton compete in Nationals. Covert said they spent about $1,000 on the trip. But as a parent and coach, Covert said that some things can't be measured with a price tag.
"It's really more seeing them compete and improve and grow," Covert said. "That's what it's all about."
Dave Conway's son, Dallas, is a seventh-grader at South Junior High. Dallas has played baseball and tennis. For Christmas he got a tennis racket, one with a longer handle - that cost a little bit more. Conway must pay $50 for every sport his son competes in at South. In addition, he said he spent about $100 on pants, shoes and a glove and another $40 on a two-day baseball camp.
He said they pay for the necessary cost with some saved up discretionary income, but if it came down to putting food on the table or paying the electric or gas bills, the choice would be an easy one.
"It wasn't like we weren't feeding the kids," he said.
Dallas said the $50 cost to play tennis was a little pricey, but he had good equipment to play with on the courts and on the diamond and was appreciative that his family's hard-earned dollars allow him to play the sports he loves.
"I'm very, very thankful because it's just a sport," he said. "It's not required."
Lawrence Girls Fast Pitch coach Bonnie Mills has played and coached softball for a number of years. In that time she has seen the cost of playing softball steadily increase. This year's league cost for individual registration was up $5 from last year and was paid for in two ways: a buyout of $105 or a $65 payment with players participating in a cookie dough fundraiser where each participant must sell 10 buckets as a minimum to make up for the cost.
The registration fee included catcher's gear, bats, shirts, visors, socks and secondary insurance.
Mills said when they shop for equipment they do not buy high-priced equipment, but rather purchase lower to moderately-priced gear.
"Cheaper can be just as good," she said. "We try to keep it reasonable."
For team registration the cost is $850 per team ($85 per member). Mills understands that's a lot of money, but that's just the cost of competing.
"It's a necessity, but we do try to keep the cost down as much as possible," she said, noting that other area leagues are more expensive.
While the entry fee for the Lawrence Parks and Rec kindergarten through fourth-grade league is $35 and the Jhawk league is $10 more, Youth Sports Director Lee Ice said that those playing in competitive leagues, many of whom have aspirations of playing college or pro baseball, can easily spend in excess of $2,500 just to participate in the program. In addition, they must also pay for their own travel costs.
Ice said that while many youngsters have dreams of playing ball at a higher level, he understands the social aspect of playing sports, he wishes more kids would focus on getting an academic scholarship, not an athletic scholarship.
"Athletics is fun, it teaches discipline, but it's not what makes a living," Ice said. "People need to be realistic."
Ice also said that having high-end gear, such as a $200 bat - one that advertised it could make the ball travel 70 yards farther - or a $200 glove, do not improve performance.
"It's still the aspects of hitting the ball," Ice said. "There are better bats and gloves out there but how realistic is it? I still think the bottom line is the weight of the bat."
Ice said that players should not use a bat that was too big because it slowed the player's bat speed as it traveled through the hitting zone. He also said he asked parents not to let their kids use old hand-me-down gloves because size and comfort were the most important factors when purchasing a glove, not the price tag or how cool the gear looked.
"They need to get the right size," Ice said. "Sometimes players and parents think that the most expensive glove (is) bigger (and) better. It's size and fit."
On weekends during the spring and fall months, hundreds gather at Youth Sports Inc. to watch and play soccer. But the cost of competing is paid for with a hefty price. In the Recreation Division the Hobbits and Girls Only U8 to U13 pay a $67 fee, High School 4 vs. 4 pay $35 and Club Division pays $127.
But for the Premiere league, which includes 10 months of coaching, three seasons of play (fall, spring and indoor), four tournaments and uniforms, the registration fee is $895.
Kaw Valley Soccer coach Mauro Nobre said that as kids progress through the program, their soccer skills and attire can change, especially shoes because they outgrow their old ones so quickly.
"The higher level of play, the more they care about the look. But it really makes no difference in how they play," Nobre said. "The shoes don't make the player."
Nobre said what does make the player is years of practice and improvement, noting that many of the players who have played in the Premiere league have gone on to play in college.
"These kids become really skilled and good at it." Nobre said. "It not only gives them a sense of pride and accomplishment, but a sense of mastery. It shows they are capable of mastering something. The fact that they mastered something at such a young age, they control their own destiny. That's going to transfer to their other endeavors."
And Nobre has little doubt that their parents' investment in their kids will be repaid to them in something that can't be measured in dollars and cents.
"It's very worth it," Nobre said. "It's an investment in the kids' future. But it's an investment they get a lot of enjoyment. Parents, players make friendships and bond and grow as people."
Copyright 2018 The Lawrence Journal-World. All rights reserved. This material may not be published, broadcast, rewritten or redistributed. We strive to uphold our values for every story published.