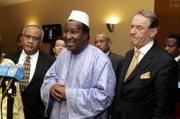 United Nations — Sudan agreed Monday to let 3,000 U.N. peacekeepers deploy in Darfur with attack helicopters, opening the door to the first significant U.N. force to help beleaguered African Union soldiers who have been unable to halt the region's four-year war.
After five months of stalling, the government in Khartoum called for a speedy deployment and hinted it could approve an even larger U.N. force that has been demanded by the U.N. Security Council, the United States and others.
But experts were cautious about chances for creating that 20,000-strong force, noting Sudan's leaders have reversed course previously after announcing vague agreements for action in Darfur.
U.N. Secretary-General Ban Ki-moon called Monday's agreement "a very positive sign" and said the U.N. and the African Union would "move quickly" to put together the 3,000 peacekeepers as well as press for a deal allowing the larger force.
The United Nations has no standing army and Ban is urging U.N. member states to contribute troops and police quickly for Darfur, but it will likely take months before the U.N. contingent is on the ground.
Sudanese President Omar al-Bashir, whose Arab-dominated government has been accused of aiding Arab militias fighting ethnic blacks in Darfur, had long opposed a U.N. force to help the weakly armed 7,000-soldier African Union peacekeeping mission.
But he came under increasing pressure from the U.S., the European Union, some Arab and African countries and most recently China, which buys two-thirds of Sudan's oil exports and sells Khartoum weapons and military aircraft.
Though al-Bashir's government has a history of finding loopholes in agreements with the U.N. and others, the deal reached Monday appeared to be a meaningful step forward in bringing a more effective peacekeeping force to Darfur.
Nonetheless, U.S. diplomats and U.N. officials said they would remain cautious until U.N. peacekeepers were on the ground in Sudan's vast western province, where more than 200,000 people have been killed and 2.5 million chased from their homes since the conflict began in 2003.
"We'll see whether they've agreed when they actually start to deploy," acting U.S. Ambassador Alejandro Wolff told reporters.
Copyright 2017 The Associated Press. All rights reserved. This material may not be published, broadcast, rewritten or redistributed. We strive to uphold our values for every story published.