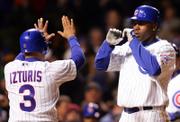 Chicago — The limp was clear as Alfonso Soriano dragged himself up the stairs, out of the clubhouse and into the night. His immediate future is a bit murky, though.
On a night when the Chicago Cubs shook up their lineup, Soriano got shaken up.
He left in the fifth inning after injuring a hamstring while attempting a diving catch in the Cubs' 12-4 rout of the San Diego Padres on Monday.
"Yes, I don't like to get hurt," Soriano said, when asked if he's worried. "I know that I'm not going to be able to play tomorrow, so it's sad for me because ... I like to play every day. We'll see how I look tomorrow."
Chicago, which was 0-7 against the Padres last season, led 3-0 in the fifth when Clay Hensley (0-3) lofted a fly to shallow center with a runner on third and one out. Soriano raced in, dove and rolled over as he trapped the ball.
Soriano then got up and slipped while attempting a throw. Trainer Mark O'Neal tended to him, and Soriano walked off gingerly under his own power. The initial diagnosis was a strained left hamstring, and the Cubs hoped to know more after an MRI exam today.
Even if the test reveals no tears, Soriano thought he would miss at least five days.
"I believe that it's not bad, it's not that bad," he said.
Chicago began the night last in the NL Central at 4-7 and entered with five losses in six games, and manager Lou Piniella shook up the lineup.
The biggest change was moving Jacque Jones from right field to left and dropping him to sixth in the batting order. Matt Murton started in right, batted cleanup and delivered two hits and two RBIs.
Piniella said before the game he was simply "changing things up a little bit. Nothing more, nothing less."
Pirates 3, Cardinals 2
St. Louis - Albert Pujols popped up with the bases loaded for the final out, and Pittsburgh got an excellent pitching performance from Ian Snell to beat St. Louis.
Snell (1-1) threw seven innings of three-hit ball, and Xavier Nady had two RBIs.
Giants 8, Rockies 0
Denver - Barry Zito gave up three hits in six innings for his first win with San Francisco, and Ray Durham and Bengie Molina hit consecutive homers against Colorado.
Brewers 10, Reds 6
Cincinnati - Bill Hall broke out of a slump with his first career grand slam, a seventh-inning shot that powered Milwaukee over Cincinnati.
Hall was in a 1-for-22 rut when he connected off reliever Todd Coffey. Pinch-hitter Josh Hamilton hit a two-run homer in the ninth for the Reds.
Nationals 5, Braves 1
Washington - Matt Chico overcame a shaky start to earn his first major-league win, and Dmitri Young honored Jackie Robinson a day late with three hits and two RBIs in Washington's victory over Atlanta.
The victory gave the Nationals their first winning streak of the season. They've won three of four after a 1-8 start.
Astros 4, Marlins 3
Houston - Morgan Ensberg singled home the winning run with the bases loaded in the bottom of the ninth inning, giving Houston a victory over Florida.
Dodgers 5, Diamondbacks 1
Phoenix - Nomar Garciaparra drove in two runs with a homer and a double as Los Angeles won for the ninth time in 11 games, beating Arizona.
Brad Penny (3-0) allowed one run in seven innings for the Dodgers, who took over first place in the NL West.
Copyright 2018 The Associated Press. All rights reserved. This material may not be published, broadcast, rewritten or redistributed. We strive to uphold our values for every story published.