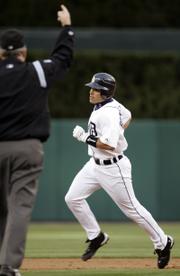 Detroit — The Kansas City Royals haven't figured out how to stop Ivan Rodriguez.
Rodriguez had a grand slam and six RBIs to back Justin Verlander's first win of the season in the Tigers' 12-5 victory over the Royals on Monday night.
"They've made adjustments to me, but I get to make adjustments too," said Rodriguez, who has a .359 average against the Royals with 21 homers and 101 RBIs in 154 games. "I got two pitches to hit today, and I got both of them."
After the Tigers loaded the bases on a single and two walks in the first against Zack Greinke (1-2), Rodriguez fouled off a pair of two-strike pitches before driving a 1-2 offering over the wall in right-center. It was the sixth career slam for Rodriguez, a drive estimated at 423 feet. He added a two-run double in the second off Jason Standridge that put the Tigers ahead 7-2.
"He's hurt more than just us in his career," Kansas City manager Buddy Bell said. "He's the best catcher I've seen. I don't think there's been anyone better with that combination of offense and defense."
Carlos Guillen had four RBIs for the Tigers, who were swept by last-place Kansas City on the final weekend of last season, costing Detroit the AL Central title. As a wild-card team, Detroit beat the New York Yankees and Oakland in the playoffs, advancing to its first World Series since 1984 before losing in five games to St. Louis.
Detroit manager Jim Leyland was upset with the way the Tigers played in Sunday's 2-1 loss at Toronto, when the Tigers managed only three hits.
"It's been 30 degrees every game and that makes it hard to hit," Guillen said. "But we knew we have a lot of great hitters and we hadn't lost any confidence in them."
Detroit has three slams in 13 games - Curtis Granderson hit one April 4 against Toronto and Craig Monroe had one in Baltimore on April 11. There was one grand slam in the entire National League entering Monday.
"He threw me some good pitches in that at-bat - I had to foul a couple off just to stay alive," Rodriguez said. "Then he finally left one over the plate, and I was able to hit it a long way."
Rodriguez gave the Tigers a brief scare when he came up lame after popping out for the final out in the eight, but he stayed in the game.
"My spikes got caught a little when I took that swing, and I felt something in the back of my leg," he said. "But I'm fine."
Verlander (1-0) had not allowed any earned runs in 13 innings coming in but didn't get a decision in his first two starts. He allowed three runs and five hits in six innings, struck out six and walked none.
Most of the damage against him came when the Royals turned three doubles into two second-inning runs, and Verlander admitted waiting out Detroit's 35-minute first inning might have been the cause of his troubles.
"That first inning took forever, and I finally went down to the cages to play some catch," he said. "I think that might have gotten me out of sync for an inning."
Copyright 2018 The Associated Press. All rights reserved. This material may not be published, broadcast, rewritten or redistributed. We strive to uphold our values for every story published.