Kansas University track coach Stanley Redwine stood in the southeast corner of Memorial Stadium on a sun-baked, cloud-free Monday afternoon. The temperature was 70 degrees, with a refreshing breeze in the air.
"This (weather) is better than anything we've had all year. Today, everybody is excited to have a good workout," said Redwine, running his men's and women's teams through a pre-Kansas Relays practice session.
"If you promise the good weather : we promise good performances at the Relays," he added with a smile.
The 80th Kansas Relays will open with the heptathlon and decathlon Wednesday, followed by a light schedule of events Thursday and Thursday night. The bulk of the meet is set for all day Friday and Saturday.
The high school, college and pro athletes only can hope the rain, which spoiled numerous Relays in the 1980s and 1990s, stays away as it has most of the 2000s.
"It would be great if it's like this : warm and sun," said one of KU's top competitors, Egor Agafonov, who will throw the hammer at noon Thursday.
Other top KU competitors include triple jumper Crystal Manning, long jumper Barrett Saunders, javelin thrower Hugh Murphy, discus thrower Abby Emsick, pole vaulters Jordan Scott and Kate Sultanova, hurdlers Ashley Brown and Julius Jiles, as well as a distance crew that includes Paul Hefferon, Colby Wissel and Benson Chesang, among others.
"This is an opportunity for our kids to show their stuff at home," Redwine said. "We have one home meet, the Kansas Relays. It's a great event. It's huge. I hear from people all the time who see our results in the paper. They said, 'When will you have a meet so I get to see it?' This is our opportunity."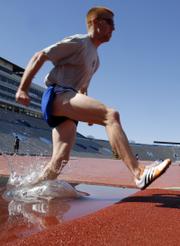 The meet will take on more of a college flavor this year, with athletes from Kansas State, Nebraska and Missouri joining Wisconsin, Illinois and others.
"One focus we're working on and will continue to work on is to bring back the college division," first-year Relays meet director Milan Donley said. "KU is a university, a Div. I school. We want to have a great Div. I meet."
Yet the popular Gold Zone, which will feature several standout pros, also will return.
Kansas City sprinter Maurice Greene does not have the event on his schedule this year.
Others do, including elite sprinters Muna Lee and Alyson Felix. Both will compete in the 400 relay, while Felix also will compete in the 100.
Two Olympic gold medalists - pole vaulter Nick Hysong (2000) and 100-meter hurdler Joanna Hayes (2004) - will compete Saturday, as well as 2005 world champion Bershawn Jackson, who will try to win his third straight Relays 400 hurdles title. To claim a three-peat, he'll have to defeat 2000 Olympian Ian Weakley of Jamaica.
Hysong will be joined in the vault by American record holder Jeff Hartwig, with former KU phenom Pat Manson still a possible entry.
Former KU standout Scott Russell will compete in the javelin at 5 p.m. Friday outside the stadium against a strong field that will include former NCAA champ Trevor Snyder.
"Scott has been so good to us, competing every year at the Relays," Donley said. "If you want to see something get thrown far, come out to the javelin."
If fans had to pick one time to venture to the stadium, it might be for the featured Gold Zone on Saturday afternoon.
"I think if people come between 2 and 5 p.m. (Saturday) they will see some amazing performances," Redwine said of the stacked sprint and hurdles field, which will include some of the eight former Olympians, 11 former college All-Americans and two American record-holders in the field. "I think it'll be a great meet."
Copyright 2018 The Lawrence Journal-World. All rights reserved. This material may not be published, broadcast, rewritten or redistributed. We strive to uphold our values for every story published.