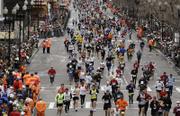 Boston — The runners were soaked, the pavement slippery, and Robert Cheruiyot knew exactly where trouble was waiting along the Boston Marathon route.
So 48 hours before the start of Monday's race, after his more traditional training was complete, the defending champion headed to the course to test the traction of the finish line. It was at the end of the Chicago race, 26 miles and 384 yards in, that he slipped - nearly costing himself a race, if not a career.
"I don't want myself to think about falling down in Chicago," Cheruiyot said after overcoming a concussion from that slip and the remnants of a nor'easter to win his third Boston title. "It is like telling someone something very bad. ... It is not good."
Cheruiyot, who also won in 2003, earned his third Boston title standing up. He outkicked countryman James Kwambai on the way into Kenmore Square to win in 2 hours, 14 minutes, 13 seconds - slower than the course record of 2:07:14 he set last year but enough to win by 20 seconds.
"When the lion is chasing the antelope, he doesn't look back. He has to eat," Cheruiyot said. "So when I run, I don't stare at my time."
Kenya took the top four spots in the men's race and its 15th victory in 17 years. The top American man was Peter Gilmore, in eighth place.
Russia's Lidiya Grigoryeva captured the women's crown in 2:29:18, winning by 20 seconds and sending Latvia's Jelena Prokocuka to her second consecutive second-place finish. Grigoryeva, who set the course record in Los Angeles last year, veered to the stands to grab a Russian flag just before crossing the finish line.
Top American hope Deena Kastor fell back after stomach problems diverted her from the course for a minute near the midpoint. Kastor, the defending London champion, American record-holder and Olympic bronze medalist, still finished first in the U.S. national championships, a race within a race that carried a $25,000 bonus.
"It's hard to deal with a disappointing performance when you've prepared for so much better than you did out there," she said.
Cheruiyot spent two nights in a Chicago hospital in October after slipping on the finish line as he raised his arms to celebrate his victory. He couldn't sleep for more than a month, had trouble with his back, along with headaches that persisted until six weeks ago.
"I thought maybe it was the end of my career," Cheruiyot said after arriving in Boston.
On Saturday, as he prepared to defend his title, he accompanied a TV crew to the finish line, bending over to touch the gritty, nonskid surface. By the time he came that way again Monday, the skies had cleared, the winds had settled and he passed over it with ease, holding his arms to the side and blowing a kiss to the crowd.
With the victory, Cheruiyot earned $100,000 and all but clinched the race for a $500,000 bonus in the World Marathon Majors points race. Prokopcuka has a slimmer lead in the women's race, 55 points to 35 for 2006 Boston champion Rita Jeptoo, with 25 points still available for a victory in London, Osaka, Berlin, Chicago or New York.
The leading women ran in a pack of seven for the first half of the race before several, including Jeptoo and Kastor, began to fall behind. Grigoryeva, Prokopcuka and Mexico's Madai Perez ran shoulder to shoulder from there until Perez and then Prokopcuka fell back as they crossed the Massachusetts Turnpike and headed into Kenmore Square.
The two-time defending champion of the New York City Marathon, Prokopcuka was second to Jeptoo in Boston last year in the closest finish - 10 seconds - in the history of the women's race. This year's race wasn't as close but her finish was the same.
Perez was third, another 18 seconds back.
The race caught the tail end of a storm that had forecasters threatening 3 to 5 inches of rain and a 25 mph headwind that would make temperatures in the mid-30s seem up to 10 degrees colder.
The wind arrived as forecast, but the weather turned mild late in the morning - 52 degrees with a moderate rain at the start- and the sun even came out halfway through.
"I'm relieved that it worked out so well," executive director Guy Morse said. "The predictions were so dire. It looked very bad last night. Hopkinton, in particular, was sinking fast, so to speak."
Many of the leading runners ditched their long sleeves and gloves by the time they reached Natick, 10 miles in. But the wind was back in the runners' faces as they turned onto Beacon Street in Cleveland Circle for the last, long stretch to Copley Square.
"My legs were just in such pain and just would not function," said Gilmore, who was the only American on the leaderboard a year after the U.S. claimed a breakthrough with five runners in the top 10. "My brain would tell them what to do, and they just wouldn't respond - especially from Heartbreak Hill on.
"That's where these guys left me. ... The ability to respond was not there when I needed it."
Copyright 2018 The Associated Press. All rights reserved. This material may not be published, broadcast, rewritten or redistributed. We strive to uphold our values for every story published.