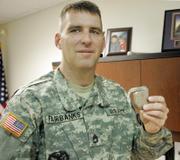 Sgt. 1st Class John Fairbanks
Age: 38, born July 18, 1968
Home: Hutchinson
Family: Married with two children, an 11-year-old son and 8-year-old daughter
Occupation: Career counselor for the U.S. Army Reserve
Career: Joined the Army in 1986, serving at Fort Hood, Texas, until 1989. Joined the Army Reserves in 1991, first in Nebraska, then Kansas, performing a variety of duties, including accounting and retention of soldiers. Worked for a time as a meat inspector for the U.S. Department of Agriculture.
Of note: Suffered a massive heart attack while competing in a cycling race in April 2005. Received a heart transplant in July 2005. After several appeals, was declared fit for duty by the Army Reserve.
Quotable: "My doctors feel like if I was a banker, I could be a banker. If I was a teacher, I could be a teacher. Why not come back and be a soldier?"
Hutchinson — All John Fairbanks ever wanted to do was to be a soldier. He certainly wasn't going to let the Army tell him his career was over just because he had what he calls "a medical procedure."
But the Army said that medical procedure - a heart transplant - precluded the 38-year-old father of two from service.
Now, nearly two years after the surgery, Fairbanks' fight to save his life and keep his job has paid off and he has what he wants: a clean bill of health by doctors and the Army Reserves.
"Just like pedaling in the wind, you put your head down and pedal harder," said Fairbanks, who was finishing a bicycle race in April 2005 when he suffered the heart attack that eventually led to the transplant. "I've always tried to do that. It's satisfied me."
His doctors have been amazed at his recovery. They credit the physical shape he was in before the heart attack, noting his other organs hadn't deteriorated.
"My doctors feel like if I was a banker, I could be a banker. If I was a teacher, I could be a teacher. Why not come back and be a soldier? I'm a career counselor; we're not really deployable anyway," Fairbanks said. "How do you wake up and say I'm not going to be a soldier, just because I had a medical procedure?"
Army spokeswoman Maj. Anne Edgecomb said 10 other soldiers have received heart transplants in the past seven years, but only one remains on active duty and his case is being reviewed by a medical board.
"Sgt. Fairbanks represents the commitment to protect human life by continuing to serve his nation in uniform," she said. "He also represents all soldiers by living the warrior ethos, 'I will not accept defeat. I will not quit.'
"Like so many of our soldiers, his remarkable story is matched only by his will to continue to serve."
Proving his point
But doctors at Fort Riley who evaluated him in October 2005, three months after his transplant, said medications he was taking to keep his body from rejecting the new heart would prevent him from doing his job.
Fairbanks' boss, Master Sgt. John Guhl, said one factor the Army considered was that the life expectancy of transplant recipients often is shorter than average, and Fairbanks might be able to spend more time with his family if he weren't in the military.
"He'll prove a point to anybody. It's amazing what this guy will do. He doesn't want to look at it as he has a disability," Guhl said.
Still, the Army told Fairbanks in the summer of 2006 that he would have to pick a date for retirement. He chose Oct. 15 to give him time to make one last appeal.
This time, he argued that he was fit for duty, and he asked the Army to evaluate him again. He assembled more documentation, including eight medals he won at the U.S. Transplant Games in Louisville, Ky., in basketball, cycling and swimming.
Finally, the Army was satisfied, and when Fairbanks went to Fort Riley on Oct. 15 expecting to retire, he was told his appeal had been granted.
Attack without warning
His ordeal began when he started feeling dizzy on April 2, 2005, while approaching the final hill of a 50-mile race near Bazaar in the Kansas Flint Hills. He coasted to the finish, but the tightness in his chest didn't go away.
During the 1 1/2 hour drive back home to Hutchinson, he didn't start to feel any better. At the hospital, doctors determined he was having "a massive heart attack" and would need emergency bypass surgery. The left side of his heart had been without blood for several hours and his prognosis wasn't good.
After bypass surgery didn't produce the desired results, Fairbanks went to see Dr. Hussam Farhoud in Wichita, who was amazed Fairbanks was still alive, given the damage to his heart and weakening condition.
"He had no warning whatsoever that he was having a heart attack," Farhoud said. "When he came to see me, he said, 'I want you to do something because I can't live like this. I'm young and I have a young family.' He was in tears."
Doctors said there had been no outward signs that Fairbanks' heart was about to give out. He was taking a cholesterol drug because he had low levels of the good type of cholesterol, but there had been no signs of blockage.
Fairbanks was sent to LDS Hospital in Salt Lake City, where he received the heart of a 19-year-old from Montana two weeks later.
"I felt better instantaneously. I guess I didn't know how sick I was, because you're in denial and you don't notice it too much because it's you," he said.
A few weeks later, he was back on his bicycle.
Earlier this month, Fairbanks resumed competitive cycling, entering the same race where he had his heart attack.
"On that last hill, I was thinking about it. I got all choked up. I had to compose myself because they were all waiting for me at the finish," he said.
Copyright 2018 The Associated Press. All rights reserved. This material may not be published, broadcast, rewritten or redistributed. We strive to uphold our values for every story published.