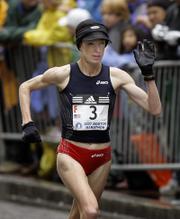 Boston — Deena Kastor's hopes of winning her first run in the Boston Marathon ended when she had to duck off the course for an emergency pit stop.
Instead, Lidiya Grigoryeva of Russia, also in her first Boston try, took advantage of a slow pace and familiarity with the cold, rainy conditions to win the women's race in 2 hours, 29 minutes and 18 seconds.
Despite Kastor's fifth-place finish, she won $25,000 for being the top American woman because this year's race was chosen to serve simultaneously as the U.S. marathon championship.
Kastor, a 34-year-old runner from the Boston area, was among a knot of seven runners that ran far ahead of the women's field of 8,063 during the first half of race.
"The pace was very pedestrian. At the beginning of the race, there was a lot of toying around with slow and fast paces," Kastor said.
Part of the that was because of strong wind and driving rain. The runners splashed through puddles in low-lying sections of the course and snaked from side to side of the roadway in search of sure footing.
It was in Wellesley that Kastor felt the unavoidable call of nature.
"It's a little humbling to say in front of a crowd of media," she said after the race. "I was a little bit worried because a camera was following me."
Kastor, who won last year's London Marathon and finished third in the Olympics in Athens, said her break lasted about a minute. She was well out of sight of the leaders when she ran past Newton-Wellesley Hospital, where she was born.
Now a resident of Mammoth Hills, Calif., Kastor said she was disappointed by the results, but loved the atmosphere even though crowd turnout was low. She said she wants to run the Boston race again but has said she does not want to run the marathon at the worlds in Osaka, Japan.
"This was a spectacular, spectacular experience out there. The crowds, despite the weather, were just awesome. I had so many people yelling my name out there," she said.
Grigoryeva said the challenging weather probably didn't faze her as much as some of the other runners.
"During my training in Russia, the weather conditions were very similar," Grigoryeva said through a translator.
She beat Jelena Prokopcuka of Latvia by 40 seconds. It was the second consecutive second-place Boston finish for Prokopcuka.
Grigoryeva, a two-time Olympian who won the Los Angeles Marathon last year and the Paris Marathon in 2005, said the notorious hills of Boston did not bother her as much as she thought they might.
She said she thought the course was going to be more difficult than it was.
Prokopcuka, who won the 2006 New York City Marathon, and third-place finisher Madai Perez of Mexico ran side-by-side with Grigoryeva through most of the race's second half, but the Russian had a finishing kick and pulled away as she approached Kenmore Square with just more than a mile left in the 26.2-mile race.
Grigoryeva took home $100,000. Prokopcuka won $40,000 and Perez $22,500.
Last year's winner, Rita Jeptoo of Kenya, finished fourth, two minutes ahead of Kastor.
Copyright 2018 The Associated Press. All rights reserved. This material may not be published, broadcast, rewritten or redistributed. We strive to uphold our values for every story published.