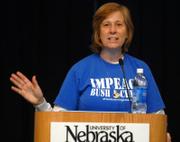 Omaha, Neb. — Americans need to make more sacrifices for the peace movement to bring an end to the U.S. occupation of Iraq, activist Cindy Sheehan told hundreds gathered Sunday for a peace event in Omaha.
"Look in your hearts and suck it up," said Sheehan, wearing a bright blue shirt bearing the words "Impeach Bush and Cheney."
Sheehan, who was the keynote speaker for the Omaha Peace and Justice Expo at the University of Nebraska at Omaha, began a grass roots peace movement in August 2005, camping outside President Bush's Texas ranch for 26 days. More than 10,000 people joined her as she awaited an audience with Bush to talk about the death of her son, Army Spc. Casey Sheehan.
Sheehan said Sunday that she doesn't want other families to have to make sacrifices like she and her loved ones did. But Americans can give their time and money to the fight against the "war machine," she said.
According to Sheehan, the majority of Americans are against the war but are apathetic.
"We have to be proud to be for peace," she said, calling for people who want peace and who want U.S. troops to come home to start acting like a majority. "We are the ones running this country."
Omaha resident Beverly Currie said she found Sheehan's talk eye-opening and inspiring, not what she expected from a woman stereotyped as a bereaved mother.
"She truly is a patriot and wants the best for this country," said Currie, who was wearing a red, white and blue shirt and carrying a sign emblazoned with a U.S. flag.
Currie, who worked for three years as a flight attendant on shuttles taking soldiers to Vietnam, said she hasn't been active in the peace movement but felt inspired by Sheehan.
Not everyone felt the same way.
During the question-and-answer portion of her address, Sheehan was approached by some members of UNO's College Republicans. She rebuffed their questions and asked: "Why are you here and not over there?" The remark drew applause from many in the audience.
Afterward, Ryan Maher, a member of the campus group, said joining the military is a personal choice, but it's not a choice that aligns with his life goals.
He noted that one member of his group is currently serving in the Middle East.
Maher also said Sheehan claims to support the troops, but bringing them home prematurely is not a show of support. "It's not something where you can set a timeline," he said of the war.
Copyright 2018 The Associated Press. All rights reserved. This material may not be published, broadcast, rewritten or redistributed. We strive to uphold our values for every story published.