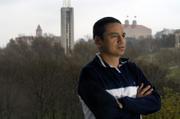 Some runners train for years just to put themselves in position simply to complete their first marathon.
Jorge Carvajal trained just a few months, ran two in quick succession - and, oh yeah, qualified for the granddady: today's Boston Marathon.
"I wasn't surprised," said Carvajal, a Kansas University doctoral candidate from Costa Rica. "You have to work hard, but you have to be a little bit lucky, too."
Actually, most of Carvajal's first-marathon luck was all bad.
But first a little background.
Carvajal came to KU in 2002 in pursuit of a PhD in education. Over the next two years, he had all but stopped exercising and picked up 40 pounds
He enrolled in a university weight-loss study in the summer of 2005 and dropped the 40 pounds through diet and exercise. The exercise, however, was limited to 150 minutes a week.
Carvajal's group leader for the weight-loss study was training to compete in a triathlon, and Carvajal thought he'd give that a shot.
In July 2006, Carvajal completed the Lone Star Triathlon and finished fourth in his age group.
About that time, he won the lottery to be accepted into the New York Marathon, so he shelved his triathlon training in favor of running alone.
New York first-timer
In November, Carvajal competed in his first marathon, the New York Marathon. He finished in 3 hours, 31 minutes, 4 seconds.
Not bad, considering it was his first.
"Most people told me that, in your first marathon, you don't want to set a time goal," Carvajal said. "But since I wanted to run Boston, I wanted to qualify in New York."
Officially, he didn't. His time was a mere five seconds slower than the Boston Marathon qualifying time for his age group (45-49).
Undaunted, Carvajal decided to try to qualify again five weeks later at the Las Vegas Marathon. But hindered by a brutal wind, Carvajal's time was 10 minutes slower than his New York time.
Then Carvajal started thinking about just how close he had come in New York, and as he replayed the race in his head, he found ways he could have shaved far more than five seconds off his time.
Distracted, he missed setting one of his two watches at the starting line. He dropped the cap to one of his water bottles about halfway through and ran back to retrieve it. At a water station about mile 24, he walked when he didn't need to.
"I lost pretty much 90 seconds because of mistakes, because I didn't have experience," Carvajal said. "I could actually have matched the cutoff time. So I wrote to Boston. My first marathon was a very good time, so I decided to write, and they accepted me."
So today, Carvajal will be one of 10 runners who list Lawrence as their home towns who will contest the Boston Marathon.
The other nine: John Reed, Nat Collins, Karl Brooks, Tom Kreissler, Mickey Woolard, Michael Zabel, Sheila Connolly, Karen Hyde and Jodie Smith.
Rapid riser
And though Carvajal's rise to the pinnacle has been meteoric, it would be a mistake to think it was the result of anything other that hard work.
"What I think it is with him is just his will," said Lawrence's Dee Boeck, a veteran runner who helped Carvajal in his training. "He wants to do it, and he's a researcher. He really researches the subject and does it right. He gets advice from people who know more about it than he does, and he uses that advice. He's smart, and he has the will."
Still, Boeck admits it was something of a surprise Carvajal was able to qualify for Boston at his first marathon.
"If you looked at him before, he didn't look like a runner," she said. "Now he's slimmed down, and his legs have that runner's build. He's worked at it, and he's dedicated. But it's definitely impressive that he was able to qualify for Boston on his first one, especially since he wasn't a runner. People should be very impressed, maybe even somewhat jealous, but he was willing to do what it takes."
Carvajal doesn't know what to shoot for next.
He likely soon will return to Costa Rica, and figures any return to Boston might be cost-prohibitive.
"Sometime I'd like to try a half-ironman triathlon," he said. "That's a goal of mine. After Boston, I might try for a half-ironman. Probably this year, I won't run any more marathons. I want a half-ironman, so I want to improve my swimming and biking.
"But some of it depends on my outcome in Boston. If I qualify in Boston (for next year's event), I might change my mind. It's a dream of every marathoner to compete in the Boston Marathon."
Copyright 2018 The Lawrence Journal-World. All rights reserved. This material may not be published, broadcast, rewritten or redistributed. We strive to uphold our values for every story published.