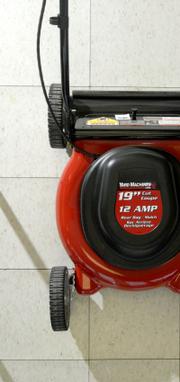 Neil McCullough, owner of Fleetwood Mower and Rental, talks about electric mowers
After the fifth pull on the starting rope, my mower still wouldn't start. I found the dusty manual in the garage and noticed the old sales slip was still there - the Craftsman mower was 7 years old, almost to the day.
My wife agreed: Time for a new one.
My first thought was to check out what cool new powerful mowers were available.
But as I went in the house, I noticed Time magazine on the kitchen table had a penguin on its cover.
The message about global warming seemed clear: "Save the penguin, save the world."
I decided to consider going green on a new mower. I did a little Googling on mower emissions and found:
¢ My mower was a much bigger polluter, proportionately, than my car. A few Web sites quoted "a 2001 Swedish study" that said cutting grass for an hour puts out just as many pollutants as a 100-mile drive in a car. I could never really find the original Swedish study, but I didn't doubt my mower was a smog maker.
¢ California has pressured Briggs & Stratton to build catalytic converters on its new four-cycle mower engines. That was supposed to mean that mowers purchased in 2007 would be better for the environment. There were also some gasoline mower buyback programs going on in California's Orange County.
¢ Electric mowers get good ratings on consumer Web sites. Several companies were also offering cordless battery-powered mowers that could cut a 1/3-acre yard on a single charge. Black & Decker, Craftsman and Neuton were some of the cordless manufacturers.
Plugging in
Electric seemed to be the way to go.
I talked to Neil McCullough at Fleetwood Mower and Rental in Lawrence, who told me that less than 1 percent of his mower sales were electric models or cordless models.
However, he assured me such mowers are powerful enough to cut most yards and work well if it takes you only about 30 minutes to cut your entire lawn.
But there are two big drawbacks, McCullough said.
One, the batteries in the cordless models will need to be replaced in three to four years, costing about $200. Second, the models requiring cords won't work very well if you need a cord longer than 50 feet.
And there's one more problem: None of the electric models are self-propelled, he said.
A new vision
Armed with my knowledge, I headed down to get a mower, save the penguins and save the world.
"Sorry," the Sears Craftsman mower salesman told me.
The 2007 low-emission model with the catalytic converters were being sold only in California. He said he might be able to order me one. But that could take days.
I asked if I could see a cordless electric model. Same story: He could order me one.
I was getting impatient. I needed a mower immediately. My grass seemed to be growing by the hour.
He showed me a 2006 gasoline model that was sitting on the showroom floor. He pointed out the floor model's price had been cut by $40.
"It has a bigger engine than the new ones," the salesman told me. My eyes widened.
More power? And I could take it home now?
I started looking it over.
The penguin faded from my mind's eye and a new vision appeared - me triumphantly conquering the foot-high grass with a 6.5 horsepower Briggs & Stratton four-cycle engine and a mulching blade.
"Oooo. That's quite a mower," I pictured my wife saying, handing me a cold Bud Light as I strutted by.
"Let's do it," I told the salesman.
Save the green
I pushed the fuel bulb three times and pulled the rope - the new mower fired right up.
But then it started belching blue smoke. After about 30 seconds, I was coughing in a thick cloud and wondering what I had done wrong.
Then I realized I had probably put in too much oil. The salesman had warned me, I remembered. It finally cleared up after about a minute.
The self-propelled front wheels pulled me around the yard quickly - and the engine gobbled up the foot-high grass with no trouble.
"That mower is a thing of beauty," my wife said as she walked in the house, looking at the black housing and red engine. I grinned.
I was surprised how fast I finished the yard. It wasn't really as high as I'd thought.
Going in the house, I saw the penguin on the magazine cover again. Global warming guilt struck hard, fostering an idea.
"I think I'm going to buy another mower," I told my wife.
I explained how we could use an electric cordless model most of the time, then pull out the gasoline-powered one only when the electric one couldn't handle the job.
She was patient with me.
"First we need to get a new dishwasher," she said.
"And pay next year's tuition for the girls," I said, finding my way back to reality.
Maybe I could still be a hero and "save the penguins, save the world." I might look at a used, cheap human-powered reel mower to use on part of the lawn.
And there might be another option. But I'm not sure if my neighborhood is zoned for goats.
Copyright 2018 The Lawrence Journal-World. All rights reserved. This material may not be published, broadcast, rewritten or redistributed. We strive to uphold our values for every story published.