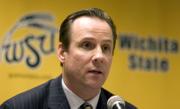 Wichita — Wichita State hired Gregg Marshall as its men's basketball coach Saturday, four weeks after he led Winthrop to a first-round upset of Notre Dame in the NCAA Tournament.
Athletic director Jim Schaus said WSU had reached a tentative seven-year agreement with Marshall for $750,000 a year, plus performance incentives. He told reporters Marshall was his first choice to fill the job.
Marshall replaces Mark Turgeon, who left for Texas A&M; on Tuesday.
"I don't believe there is anybody more talented or a greater fit for Wichita State than Gregg Marshall. We could search for weeks, months, years and not find somebody with his talent and caliber - somebody that fits what we need," Schaus said.
Marshall, who met with Wichita State players Friday night, said he and his family did not make the decision to accept the job until Saturday morning after sleeping on it.
"Preparation will not be a problem, hard work will not be a problem, playing with passion and intensity will not be a problem," Marshall said. "I can't guarantee you every shot will go in and I can't guarantee you that we will win every night, but you will get an honest effort and you will get something you can be proud of on that court night in and night out."
He planned to meet with his former players in Rock Hill, S.C., Saturday evening. At least one, and possibly two, of his coaching assistants would come to Wichita State with him, Marshall said, declining to name them.
Wichita State's new head coach told reporters he would concentrate on recruiting in the next few weeks, and said he looked forward to his first practice in the upcoming season with his new team.
"I am very aware of and very cognizant of the fact we are not done with the growth that has started in the last several years, but can actually aspire to even greater heights," Marshall said.
Winthrop promotes aide
Rock Hill, S.C. - Winthrop turned to assistant coach Randy Peele to be its new head coach Saturday to replace Gregg Marshall, who accepted the head coaching position at Wichita State. Peele has been with the team the past four years. Peele was the head coach at North Carolina Greensboro from 1995 to 1999 and led the Spartans to a Big South Conference championship. He also spent four years as an assistant at Greensboro.
Copyright 2018 The Associated Press. All rights reserved. This material may not be published, broadcast, rewritten or redistributed. We strive to uphold our values for every story published.