Photo Gallery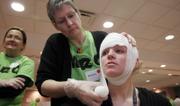 Disaster first-aid
About 50 people gathered at Lawrence Memorial Hospital on Saturday to prepare for disaster.
"Our idea is to get volunteers trained and ready," said Cori Green, a nurse and coordinator for Douglas County Medical Reserve Corps. "You're only as good as your training."
The free disaster first-aid training course, sponsored by LMH, attracted community members, volunteers and employees from such areas as fire and medical, emergency management and the medical reserve corps.
"The more people that we can get trained and we know can be prepared, the better off we are as a community," said Teri Smith, acting director of Douglas County Emergency Management.
Green said volunteers often come out in droves following major disasters, but that isn't always helpful if volunteers don't have the training necessary to be effective in an emergency situation.
The course covered wound dressing, bandages, splints and other procedures.
"This is learning old techniques," said John Drees, community education specialist for the hospital. "It's what to do if medical help is delayed."
Megan Blair worked to bandage a man whose mock wounds included a branch piercing his shoulder. The man complained of the tightness of his bandages and groaned in mock pain.
"It's really helpful that they react to you as you're bandaging," said Blair, a nursing student at Washburn University and community education employee at LMH. "You have to be prepared for the mental, not just the physical. I was standing there thinking: 'What am I going to say to this guy to calm him down? How can I make him more comfortable?'"
Copyright 2018 The Lawrence Journal-World. All rights reserved. This material may not be published, broadcast, rewritten or redistributed. We strive to uphold our values for every story published.