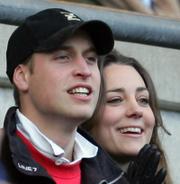 London — Many saw her as Britain's future queen, but it looks like Kate Middleton's royal romance will not have a fairy-tale ending.
Middleton and Prince William have ended their four-year relationship, a decision that surprised palace-watchers and disappointed monarchists hoping for a glamorous royal wedding to rival that of Prince Charles and Princess Diana.
For many Britons, however, the split provided more evidence that the royals are as human as anyone else.
"I think they're just like any other couple," said Minet Marshall, a 36-year-old London office worker. "They're young, and before you meet the right person you have to kiss a lot of frogs."
The Sun newspaper reported the breakup Saturday in a front-page story, saying the couple had reached an "amicable agreement" to separate.
William's Clarence House office refused to comment, saying it did not discuss the prince's private life, but royal sources did not deny the report, tacitly acknowledging it was true.
The news took many royal-watchers by surprise. It was widely thought the couple would soon announce their engagement; one bookmaker was so certain of a royal wedding it stopped taking bets on it earlier this year. The retail chain Woolworths had commissioned mugs, plates and other Wills-and-Kate memorabilia, despite the absence of a formal engagement.
Behind the scenes, a different story unfolded. The Sun said the split was caused by the "extraordinary pressures" on the couple and by William's career in the army. The second in line to the throne graduated from Sandhurst military academy in December and is undergoing further training at an army base in rural England, while Middleton lives in London.
Copyright 2018 The Associated Press. All rights reserved. This material may not be published, broadcast, rewritten or redistributed. We strive to uphold our values for every story published.