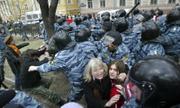 Moscow — Hundreds of demonstrators defied authorities Saturday by trying to stage an anti-government rally banned from a landmark downtown square, setting off sporadic clashes with police across Moscow and bringing a wave of arrests.
A coalition of opposition groups organized the "Dissenters March" to protest the economic and social policies of President Vladimir Putin as well as a series of Kremlin actions that critics say has stripped Russians of many political rights.
Thousands of police officers massed to keep the demonstrators off Pushkin Square, beating some protesters and detaining many others, including Garry Kasparov, the former world chess champion who has emerged as the most prominent leader of the opposition alliance.
Police said 170 people had been detained but a Kasparov aide, Marina Litvinovich, said as many as 600 people were detained - although she said about half were released quickly. Kasparov, whom witnesses said was seized as he tried to lead a small group of demonstrators through lines of police ringing Pushkin Square, was freed late Saturday after he was fined $38 for participating in the rally.
"It is no longer a country ... where the government tries to pretend it is playing by the letter and spirit of the law," Kasparov said outside the court building, appearing unfazed by his detention.
"We now stand somewhere between Belarus and Zimbabwe," two dictatorships that have cracked down on opposition, he said.
It was the fourth time in recent months that anti-Putin demonstrations - all called Dissenters Marches - have been broken up with force or smothered by a huge police presence.
Earlier protests were thwarted in Moscow, St. Petersburg and Nizhny Novgorod.
A similar march planned for today in St. Petersburg also was banned by authorities.
This weekend's marches were being closely watched as a barometer of how much of a threat, if any, opposition forces pose to the Kremlin as Russia prepares to hold parliamentary elections in December and a presidential vote next spring.
Putin, whose second and last term ends in 2008, has created an obedient parliament and his government has reasserted control over major television networks, giving little air time to critics.
Copyright 2018 The Associated Press. All rights reserved. This material may not be published, broadcast, rewritten or redistributed. We strive to uphold our values for every story published.