Dorothy was correct. There is no place like home.
Except for Kansas University's softball team. The Jayhawks have turned Arrocha Ballpark into Oz.
"It's frustrating," KU coach Tracy Bunge said. "I don't know what it is, but we haven't played well at home."
Saturday's 7-0 loss to Texas A&M; was KU's fourth defeat in its last five home outings. Meanwhile, the Jayhawks have won five of their last six road games.
"We've handled road travel very well," Bunge said. "We just haven't played well at home."
During their last five games at Arrocha, the Jayhawks have been outscored 28-10. In Saturday's lopsided loss to the No. 5-ranked Aggies, KU managed only three hits and committed two errors.
Meanwhile, the Aggies touched starter Kassie Humphreys and reliever Valerie George for eight hits, including a pair of triples by first baseman Amanda Scarborough.
"A&M; is very good," Bunge said, "but we did not look good."
For three innings, though, Kansas actually looked better than the Aggies. The Jayhawks collected a hit in each of the first three innings - a Nicole Washburn single, a Sara Ramirez double and a Dougie McCaulley infield single - while A&M; went hitless against Humphreys.
Not that Humphreys was sharp. She had walked four Aggies, but managed to dodge bullets. In the fourth, A&M; erupted for two runs on four hits and a walk.
Photo Gallery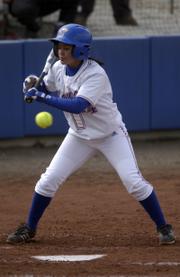 KU softball vs. Texas A&M
Then when Humphreys gave free tickets to the first two A&M; batters in the fifth, Bunge called on George. Minutes later, the sophomore right-hander threw wild to first base on a comebacker, allowing another run to score. Soon thereafter, the Aggies went ahead 5-0 on Alex Reynolds' two-run single.
A&M; added another pair of runs in the seventh on Scarborough's second triple, a single and an error on center fielder McCaulley.
Meanwhile, Aggies' right-hander Megan Gibson held the Jayhawks hitless during the last four innings.
"Gibson did a good job," Bunge said. "She got ahead and made us hit her pitch. We got behind in the count and weren't aggressive."
Texas A&M; (33-6 overall, 6-3 Big 12) is expected to use staff ace Scarborough in the circle during today's noon series finale.
Kansas is now 27-15-1 overall and 3-5 in the conference. A breakdown shows the Jayhawks are 12-4-1 at neutral sites, 8-4 in road games and 7-7 at home.
Bunge says she knows of no elixir to cure the Jayhawks' woes at Arrocha.
"You just have to fight through it," she said. "Each kid has to be physically and mentally read to play. It's all about approach. We've got to get our swagger back."
Copyright 2018 The Lawrence Journal-World. All rights reserved. This material may not be published, broadcast, rewritten or redistributed. We strive to uphold our values for every story published.