It was a stagnant start at the plate for the Kansas University baseball squad in its series opener against Baylor on Saturday at Hoglund Ballpark.
The Bears retired the first eight KU batters. A walk issued to Casey Larson with two outs in the third gave the Jayhawks their first base runner.
KU finally broke through for its first hit in the fourth inning, but never got the offense going in a 6-2 loss to the Bears.
"You have those days when things aren't falling, hit balls hard they get caught, and not getting those clutch two-out hits and things like that," KU left fielder John Allman said. "The pitchers kept us in it, and we had a chance to win it. We just didn't get it done."
KU collected a total of five hits, and only one was for extra bases - a double by catcher Buck Afenir to lead off the fifth.
"The fact is we just missed some opportunities," said Afenir, the only Jayhawk with a multi-hit game. "That's just it. Those missed opportunities come back to get you."
But thanks to KU starting pitcher Nick Czyz, the Jayhawks were in the game during the early innings. BU stranded five runners on base in the first four innings - four of them in scoring position.
"I told (Czyz) he was as competitive as he's been since he's been here," KU coach Ritch Price said. "He was in trouble and out of trouble and made some big pitches to get us through the fifth inning and only allow just two runs. I thought he did a really nice job of battling and showing some toughness."
It was in the fifth inning that both teams were able to get runners across the plate. Baylor capitalized on three hits and an errant pickoff attempt to score twice before KU finally experience some success against Baylor starter Jeff Mandel in the bottom of the frame.
The Jayhawks strung together three hits, and Larson and Kyle Murphy each recorded sacrifice flies to plate KU's only runs on the day.
Photo Gallery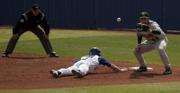 KU baseball vs. Baylor
Mandel went seven innings, allowing all five of Kansas' hits while striking out six against just two walks.
"He (Mandel) was very, very tough on us - there's no doubt about that," Price said. "He did a great job with his change-up to our left-handed hitters and used his slider to our right-handed hitters. He executed his plan pretty good today."
The Bears' pitchers retired 10 consecutive batters to close out the game - six of them by strikeout.
After Czyz gave up a third run in the sixth inning, the KU bullpen took over and was able to keep it a one-run game through eight - including two scoreless innings from Andres Esquibel.
However, with Paul Smyth on the mound in the ninth, a blunder by second baseman Ryne Price led to three unearned runs - and made a ninth-inning rally a longshot.
The two teams will finish the series at Hoglund today in a doubleheader starting at 11 a.m.
"We've got to win both games," Allman said. "We've dug ourselves a pretty deep hole now, and we can only go up from here. So we've just got to keep battling and things are going to turn around; we just can't be jumping ship."
Copyright 2018 The Lawrence Journal-World. All rights reserved. This material may not be published, broadcast, rewritten or redistributed. We strive to uphold our values for every story published.