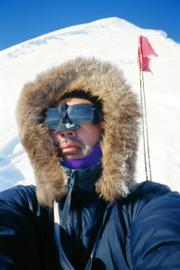 ANCHORAGE, ALASKA — Masatoshi Kuriaki didn't linger at the summit of Mount Foraker when he became the first solo climber to conquer the 17,400-foot mountain in winter.
With 34 mph winds driving wind chills to nearly 100 degrees below zero, the summit was just too cold and windy for the Japanese mountaineer from Fukuoka, a city of 1.3 million people in southern Japan where the mercury rarely dips below freezing.
"It was cold. I am tropical people. I don't like the wind," Kuriaki said when asked what went through his mind when he finally reached the top of North America's sixth-highest peak, next to the more famous 20,320-foot Mount McKinley - the tallest peak on the continent.
Strange words from a man who puts himself in some of the windiest, coldest places on the planet.
His reasons are simple.
"I love the climbing. I love the Alaska Range mountains. I love to see the northern lights," said Kuriaki, who likes to compose haiku and read poetry while attempting some of the most difficult climbs in the world.
Kuriaki reached the Foraker summit at 5:03 p.m. on March 10 and spent a scant 10 minutes snapping pictures with a disposable camera before thanking the mountain and starting his descent in what would end up being 57 days on Foraker.
While climbers have solo summitted McKinley in winter, no climber had done the same on Foraker. That's because it is a much more technically difficult mountain, with steeper sides, increased avalanche danger and more hanging glaciers than McKinley.
Its reputation is well earned. Last summer, two accomplished climbers disappeared and never were found. Some of their gear was found in an avalanche debris field.
Kuriaki's goal is to solo summit McKinley, Foraker and nearby Mount Hunter in winter. He solo summitted McKinley in the winter of 1998, becoming the fourth person to do it, so he has only Hunter left to conquer.
In 1999 and 2001, he reached the summit of Foraker but after the spring equinox, too late for it to be recorded as a winter climb. He tried again in 2002, but strong winds and avalanches cut that climb short.
In 1998, a few weeks after coming off McKinley, he tried a different kind of solo adventure - walking 860 miles from Anchorage to Prudhoe Bay in a trek that got him the nickname the "Japanese Caribou."
Kuriaki says he prefers winter climbing. He likes to watch the sun rise and set, the moon against the dark night sky, the northern lights dancing across the sky and shooting stars. He likes being alone on the mountain.
The 34-year-old mountaineer - with only one serious mishap in more than a dozen climbs - counts himself among the lucky ones. In 1976, six Japanese climbers were killed in an avalanche on Foraker. In 1984, Japanese adventurer Naomi Uemura set out to be the first person to reach McKinley's summit in winter. It is believed he reached the summit but disappeared on the descent. His body never has been found.
In the winter of 1989, three Japanese climbers, including world-famous mountaineer Noboru Yamada, were found "flash frozen" and tangled in climbing ropes after 200 mph winds whipped McKinley.
Kuriaki considered himself fortunate in 1999 when he fell 50 feet into a crevasse on Foraker. He was without his two 14-foot crevasse poles and one of his skis because they already had been swept away by an avalanche.
Kuriaki was almost done with the climb and approaching base camp. While going up the mountain, he had marked the crevasse on the Kahiltna Glacier with a red flag on a pole. On the way down, the red flag was still there, but the crevasse was snowed over.
Kuriaki was poking around with the one ski pole he had left to check for the borders of the crevasse when the snow beneath him gave way.
"I broke a snow bridge by myself with a ski pole," he said.
The 130-pound climber, who had 120 pounds of gear including a sled with him, fell down the crevasse. He landed on his backpack, which cushioned his fall.
"I got a big lucky," he said. "When I stopped 50 feet, bottom of crevasse, I had the feeling, 'Oh my God."'
At first, Kuriaki thought his thigh bone was broken. He taped it up and then began forming a plan to escape from the crevasse. He reduced the weight of his gear by half and then used ice screws and webbing to get himself out. It took about an hour.
Did Kuriaki consider quitting climbing after his close call?
"No," he said. "When I got to camp, I'm already thinking of climbing. I'm thinking what went wrong ... I learn many things from this accident. I'm always learning."
Kuriaki likes to refer to McKinley, Foraker and Hunter by their Alaska Native names: the high one, the wife and the child.
Three times, Kuriaki has attempted to summit Hunter in winter and three times the 14,573-foot mountain south of McKinley has refused him. He said the child may be the most challenging of the three.
Kurkiaki said he would try Hunter again next winter.
"I keep watching, learning for the future," he said.
Copyright 2017 The Associated Press. All rights reserved. This material may not be published, broadcast, rewritten or redistributed. We strive to uphold our values for every story published.