Milwaukee — Bud Selig, the commissioner of Major League Baseball and a baseball historian, can name all the important players and recite all the significant dates in the game's long history.
Ask him to identify the most important player and the most significant date, and Selig doesn't hesitate.
Jackie Robinson. April 15, 1947.
"I've often described it as the most powerful and greatest moment in baseball history," Selig said. "I do think it's our proudest moment."
Sixty years ago today, Robinson made his major-league debut with the Brooklyn Dodgers. Robinson broke baseball's color barrier in the modern era, and a world of possibility opened for African-Americans.
"Think about what (Dodgers president) Branch Rickey did," Selig said. "This happened seven years before Brown vs. Board of Education. It happened before Harry Truman integrated the armed forces. And it happened 18 years before the civil rights movement."
Today, players and/or coaches on every major-league team will honor Robinson by wearing his No. 42 jersey. Though Selig retired the No. 42 throughout baseball in 1997, he is permitting players and coaches to wear the number today.
Robinson endured abuse and racial epithets at every ballpark and was shunned by many of his own teammates, but despite that climate, he put together a Hall of Fame career. He will be honored today at each of the 15 ballparks where games will be played, with the core ceremony at Dodger Stadium in Los Angeles.
The idea of paying tribute to Robinson by wearing his jersey number originated with Cincinnati Reds center fielder Ken Griffey Jr., who received permission from Selig and Rachel Robinson, Jackie's widow.
Other players expressed an interest in wearing No. 42, and in a matter of days the number grew to more than 150.
The Milwaukee Brewers and St. Louis Cardinals, who play today at Busch Stadium, are among six teams on which every player will wear No. 42, according to a spokesman for Major League Baseball.
The other teams are the Dodgers, Philadelphia Phillies, Pittsburgh Pirates and Houston Astros.
"That's great for everybody to be honoring him," said Brewers center fielder Bill Hall, who had planned to be the only Brewers player to wear No. 42 until the entire team decided to join him. "I'm still just as honored as I was when I was doing it by myself."
Gary Matthews Jr. will wear No. 42 for the Anaheim Angels. He said he would be thinking about Robinson when he put on his uniform and stepped onto the field at Fenway Park in Boston.
"I've been thinking lately, with all the talk and attention he has been getting lately, and rightfully so, about what he went through playing and in the clubhouse," said Matthews, who was in Milwaukee for a three-game series against Cleveland last week.
"For me, the clubhouse is a sanctuary and a place where you feel safe and where you can relax. And I wonder where Jackie got that release. When you're in this clubhouse, you have everyone's support, and you feel safe. Just starting out, I can't imagine that he felt that way. It just had to be lonely at times. It's hard to play when you're feeling that way. It's a feeling I'll never know.
"Those are the things I'll be thinking about when I pull on that jersey and go out and play."
Robinson, the son of sharecroppers, was born in Cairo, Ga., in 1919. He was a tremendous athlete who became the first man to win letters in four sports at UCLA (baseball, basketball, football and track).
In 1945, Robinson played one season with the Kansas City Monarchs of the Negro Leagues. Two years later, Rickey approached him and asked him to join the Dodgers. The major leagues had not had an African-American player since 1889, when baseball became segregated.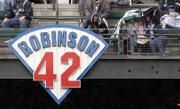 By breaking the color barrier in baseball, Robinson pioneered the integration of professional sports in America.
"I'm very proud to be the commissioner of a sport that integrated as early as we did," Selig said. "I'm very serious about this: It was our most powerful moment. It makes me very proud."
Robinson went on to be named rookie of the year in 1947. Two years later, he led the National League in stolen bases and batting average, was named to the first of his six all-star teams and helped the Dodgers win the pennant.
"It was an exciting, exhilarating time - but it also was a stressful time," Rachel Robinson said in an interview with the Associated Press.
That's because her husband was a daily target of vicious taunts from fans and even the players on opposing teams. Pitchers threw at his head, and objects were hurled at him from the stands.
"I've talked to people on both sides, people who played with and against him, and I could tell you stories," Selig said. "He took a lot of abuse. And just think if he had failed. But he didn't."
Duke Snider, who also broke in with the Dodgers in 1947 and became one of the team's stars, said in an interview on XM Satellite Radio's MLB Home Plate that he couldn't imagine a man handling the situation any better than did Robinson.
"Of all the people that I've met in my life, I don't believe I've met a person that could have done the job that he did," Snider said. "There (were) an awful lot of obscenities and an awful lot of violence involved. He was playing first base, and a lot of runners would come down there and instead of stepping on the bag would step on his foot or his leg. The obscenities from the stands and the opponent's bench ... it was terrible. I would hear it, and it would embarrass me.
"He didn't talk back. He just beat you with his bat, the ball and his glove." But is Robinson still relevant?
He died 35 years ago, before most of the players wearing his jersey number today were born. And the percentage of African-Americans in the major leagues has fallen from a peak of 27 percent in 1975 to 8.3 percent on opening-day rosters this year.
"Obviously, he would not be satisfied with where we are now," Rachel Robinson said in the AP story. "He would be disappointed, because he felt we were on the way toward some lasting change."
Torii Hunter, center fielder for the Minnesota Twins, has questioned the motives of some of the players wearing No. 42 today. Hunter is concerned the movement is a fad instead of a sincere effort to pay tribute to Robinson.
Brewers first baseman Prince Fielder can't speak for everyone, but he knows how he feels about wearing No. 42.
"That was my number in high school," Fielder said. "I did it for (Robinson) and for Mo Vaughn. And Mo wore it because of Jackie Robinson.
"Without Jackie Robinson, I probably still wouldn't be able to play in this league. He was the guy who did it. He had to go through a lot. But the good thing was he kept a good attitude about it and didn't snap on anyone. He handled it the best you could. That's why he was the first guy (in the modern era), because he obviously could handle it."
Selig said the number of players who have requested to wear No. 42 today proved that Robinson "still resonates."
"Look, for every athlete who came after Jackie, they should never forget him," he said. "Have they? I know Hank Aaron hasn't forgotten him. I know Willie Mays hasn't forgotten him. I guess I might have been concerned about some of the younger players, but now everybody wants to wear No. 42."
Selig never got a chance to meet Robinson but saw him play his first game at Wrigley Field in Chicago.
"I looked around, and we were the only white people in the upper deck," Selig said. "It was so exciting. There was so much electricity in the air. This is one of the most powerful stories ... Forget baseball.
"Jackie Robinson changed American society. There's no question about it."
Copyright 2018 The Lawrence Journal-World. All rights reserved. This material may not be published, broadcast, rewritten or redistributed. We strive to uphold our values for every story published.