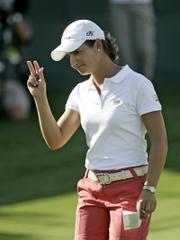 Reunion, Fla. — Lorena Ochoa's drive sailed right and landed under a folding chair. All she had to do was mark the ball, then drop it a few feet away.
Somehow, someway, she skipped the most important step.
Ochoa forgot to mark her ball before picking it up. It cost her a one-stroke penalty and probably the outright lead in the Ginn Open.
"It was a rookie mistake," Ochoa said.
She followed with a veteran move. The 25-year-old Mexican star didn't let the error affect the rest of her round, birdieing seven of the final 12 holes to shoot a 6-under 66 in the second round and tie Laura Davies for the lead.
Davies, the 43-year-old English star who won the last of her 20 LPGA Tour titles in 2001, also had a second consecutive 66. They were at 12-under 132, three shots ahead of Natalie Gulbis (66) and five strokes ahead of defending champion Mi Hyun Kim (69).
Davies had three birdies and two eagles in her second round. She has three of the tournament's eight eagles, but neither was a gimme Friday. She made a 16-foot putt on the par-5 17th and a 20-footer on No. 3.
Davies had been telling friends and family members, "I feel like something good is going to happen." But her best finish in five events this year was a tie for 13th.
"They are probably getting fed up hearing it, 'Oh, she's making it up again,'" Davies said. "I have been playing really well and making nothing. If you don't make putts, you just don't compete."
Ochoa, a six-time winner on tour last year, will play in the final pairing today with Davies. Ochoa is looking to take over the No. 1 spot in the women's world golf rankings, trying to supplant injured star Annika Sorenstam.
Sorenstam withdrew from the tournament Thursday because of a ruptured disk and a bulging disk in her back. She traveled to Miami to see a neurosurgeon later in the day.
Sorenstam wasn't the only notable out of the tournament following Friday's cut.
Morgan Pressel, who became the youngest major champion in LPGA Tour history with her victory at the Kraft Nabisco Championship two weeks ago, shot 75-72 and missed the cut.
Copyright 2018 The Associated Press. All rights reserved. This material may not be published, broadcast, rewritten or redistributed. We strive to uphold our values for every story published.