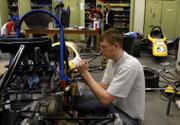 Part celebration and part debut, the unveiling of the Jayhawk Motorsports team's newest car - its lightest ever - brought a large crowd to watch as team members picked up awards and celebrated their many hours of work.
Typical of college students, the finishing touches weren't applied to the car until Thursday afternoon, said team leader Tanner Rinke.
"There are certain times everyone gets the feeling we have to get the job done," said Rinke, a Kansas University senior from Derby. "Typically it will be May before it's done and running."
This year's car weighs about 440 pounds. New this year is a redesigned chassis, or car body, which sits lower to the ground and is somewhat smaller than previous team race cars.
"There are guys who have been doing this for years," Rinke said. "I think this is the best team we've had, though I'm biased."
Another big change is carbon fiber wheels that will likely be used on this year's car. If the team does use the wheels, which were designed by a team member who had an internship with a company that specializes in carbon fiber construction, the car will be even lighter.
Rinke said that every 40 pounds lighter the car gets takes about five-hundreths of a second off the race time. The difference between coming in fourth - where they finished last time - and first can be as little as one-tenth of a second. Last year's car weighed about 480 pounds.
To be on the team that builds the car, individuals must enroll in a six-credit class.
KU senior Paul Garcia, of Overland Park, one of the team's members, said it was hard to quantify how much time team members spent working on this car. Estimates ranged from 40 hours per week to as much as 60 to 80 hours per week, or more as race day approaches.
The car is designed to race in the Society of Automotive Engineers Formula Car Challenge, or Formula SAE, held each May in Detroit. Garcia said the team not only races the car, but is also quizzed on its design.
"We defend all of the decisions we made and have to be very knowledgeable about the car, from the chassis to the motor," Garcia said.
Team member Stuart Hembree, of Lenexa, said the last thing the team did to get the car ready for Thursday's event was some of the wiring and body paneling. He said the six credit hours he was earning didn't quite account for all the effort the class required.
"Not enough credit for all the time that goes into it, that's for sure," he said.
Perhaps the most famous of all of the KU School of Engineering alumni right now is Alan Mulally, Ford Motor Co. chief executive officer. Mulally, an aerospace engineer by education, has never spoken with the Jayhawk Motorsports team, Rinke said, but they have hopes that he will.
"We know he's visiting. We'd like to talk to him, and we hope he's interested in talking to us," he said.
Copyright 2018 The Lawrence Journal-World. All rights reserved. This material may not be published, broadcast, rewritten or redistributed. We strive to uphold our values for every story published.