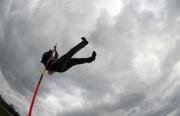 Matt Ku has lived in Kansas long enough to know that he shouldn't be surprised by anything April weather brings, even if it's bringing snow.
The National Weather Service predicts that the recent cold snap could culminate with a few inches of snowfall Friday.
"It's all right," said Ku, a Kansas University masters student. "It's Kansas weather."
It appears that today's weather, with a high of 50 with partly cloudy skies, will be about as good as it gets for the next several days as thunderstorms are likely to move in tonight followed by periods of rain and snow Friday.
Jeramie Lippman with the National Weather Service in Topeka said snow could start in Lawrence after dark Friday with the heaviest accumulations overnight.
"Right now, we're looking at maybe three, three-and-a-half inches," he said.
For people planning to travel in the state, the Kansas Department of Transportation has issued an advisory. Snow may become heavy at times Friday with up to 12 inches of snow possible around Goodland and up to 10 inches of snow around Tribune. Up to 6 inches of snow is possible between Hays and Salina and in the Garden City area.
To find out road conditions, call 511 in Kansas, or (866) 511-5368 from anywhere or visit KDOT's Web site, http://511.ksdot.org.
While snow in April isn't generally expected, Lippman said snow has been recorded in the first half of April several times since 1887.
Copyright 2018 The Lawrence Journal-World. All rights reserved. This material may not be published, broadcast, rewritten or redistributed. We strive to uphold our values for every story published.