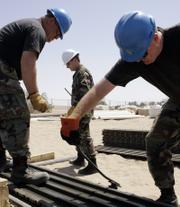 Yuma, Ariz. — Maj. Gen. Tod Bunting, commanding officer of the Kansas National Guard, is being whisked around this desert border town in a sand-colored Suburban after a bumpy, six-hour flight from Topeka headquarters, and he's a little antsy.
"I want to maximize the amount of time with the troops," Bunting says into his cell phone, after grabbing a 10-minute lunch at a Subway restaurant on Tuesday. Soon, he is peering out the passenger side window of the sport utility vehicle and sees a group of men in camouflage fatigues at a work station out in the desert.
"Are those our guys?" Bunting wants to know.
The driver says yes and pulls in. Bunting is out of the SUV in a hurry. He chats up Senior Airman Kevin Nease, of Sabetha, and Tech. Sgt. Kenny Ellis, of Topeka, asking them how it's going since they deployed with the 190th Civil Engineering Squadron on March 31 to work on a section of the security fence along the Mexico border.
Bunting lends a hand
Bunting, also dressed in fatigues, puts on work gloves and a hard hat and helps lift and turn 175-pound steel panels that will be used on the fence, about a mile south along a dusty road. The lifting is likely more for the two cameras trained on Bunting, but it's clear this is part of what he likes about his job as the state's adjutant general.
Minutes later - and minutes count here, because Bunting only has this afternoon to touch base with his troops, whose work schedule was interrupted the day before by a visit from President Bush - Bunting is back in the Suburban and headed south to the fence, where the rest of the 44 Kansas National Guard troops are working with Guard members from other states, mostly welding those 175-pound panels onto the fence.
"Are these our guys?" Bunting asks, and he again pops out and heads toward Master Sgt. Mark Sabes, who's running a forklift hoisting a platform where Sabes' son, Senior Airman Chris Sabes, 21, is welding fence pieces.
Father, son deployment
Sabes, a vehicle mechanic, says it's his second deployment with his son. The first was to Israel.
"In fact, on both deployments there have been issues when someone has said to Chris, 'Hey have you cleared that with your dad?' And I said, 'No, for the purpose of the deployment, the dad is the first sergeant.'"
Bunting, 48, moves through the heat, talking, laughing, asking questions, barely breaking a sweat. Some of the troops seem surprised to see the general; others say they were expecting him. There is talk about the 90-degree weather, and reminders to drink water, likely because a Pennsylvania National Guard member died last summer after collapsing in 104-degree heat on her first day patrolling the Arizona-Mexico border near here.
Bunting doesn't offer to weld, and the troops don't seem to want to slow down much. Most keep working while the general talks. The Suburban makes its way up and down about a 2-mile stretch of the fence, with Bunting getting out or shooing the SUV on ahead and telling the driver he'll meet him later.
Border Patrol agents on edge
Two U.S. Border Patrol agents show up and seem a little edgy, perhaps because they have seen too many dignitaries in too short a time at their new Yuma station. The border agents talk to the Guard troops, who are unarmed. The troops are not supposed to stray more than 3 feet over the border. But when you're wielding a welding torch, sometimes you have to move around.
Bunting said later he was struck by the fact that the U.S Border Patrol had reinforced vehicles because people would lob rocks at them from the other side of the fence.
"I guess I did not completely anticipate the amount of anti-border patrol and anti-fence sentiment there would be," he said. "But our troops are very well-trained, and they have good security, and they always maintain good situational awareness."
The Suburban heads to the western edge of the fence, where Bunting talks up a few more troops working on the secondary fence, which is made of steel mesh and is several yards into the U.S.
'The highlight of my job'
Tech. Sgt. Carren Christianson, of Topeka, one of four women from the Kansas Guard on this deployment, is tacking up pieces on the secondary fence so the welders can come in and secure the material.
Airman 1st Class Jared Petefish, an aircraft mechanic who turned 20 last month, says joining the guard was the "best thing that ever happened to me."
Even though he's a mechanic, he volunteered for the border security work and would volunteer for Iraq if he had the chance.
"I didn't join just to do nothing," he says, adding that he's looking forward to returning home Saturday because he misses his dog.
On the plane ride to the border, Bunting appeared at ease. He played cards and was chatty, saying he could tell stories all day about the Kansas National Guard troops, 800 of whom are in Iraq.
But on the plane back, there were no card games, no stories, but just enough talk to say the long day was important.
"It's really the highlight of my job, to get out and see our people in action. ... People have their own opinion about whether we should put a fence along the border, but it's the task we've been given, and our guys and gals want to do it right," he said. "I live for the chance to get out of the office and do stuff like this."
Copyright 2018 The Associated Press. All rights reserved. This material may not be published, broadcast, rewritten or redistributed. We strive to uphold our values for every story published.