Globetrotters like to garden, too.
Linda Lungstrum just got back from San Jose, where she and her husband John attended Kansas University's Sweet 16 and Elite Eight games. Unfortunately, a trip to the Final Four was not in the cards, so the couple opted to baby-sit their grandson in New York City for a few days.
After raising three children in their 1926 English Tudor home and living under the same roof for 32 years, the Lungstrums are spreading their wings and racking up the frequent flier miles, mostly to check in on the children who have spread out from New York to Maryland.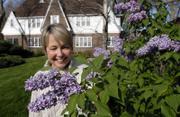 "I plant some impatiens for color," Linda Lungstrum says. "But really the garden fills up on its own, and I don't need to do much."
It's nice to know you can travel to the ends of the earth and still come home to an outdoor haven.
Although I hardly believe that creating and maintaining this landscape is as easy as Lungstrum would have me think, particularly when she greets me donning overalls and flip-flops, and her short-cropped hair is still wet from gardening in the rain. She pulls a portable CD player from her bib pocket and removes her ear phones; she's been listening to a book on disc, "The Omnivore's Dilemma," while gardening.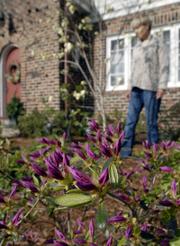 "It makes you think about what we eat," she says of the book. Her smile raises her two rosy cheeks, rounding out her face, which is unmarred by makeup.
The Lungstrum's home is a gateway in the West Hills neighborhood, which butts right up to KU's campus. The Tudor was, in fact, first the home of the developer who created the neighborhood. Because of that, the garden is brimming with old lilacs, spireas and ancient trees, but not much color - at least in the beginning.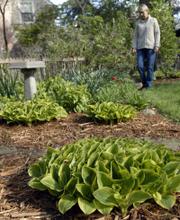 "When we first moved into the house, there were hardly any flowers," Lungstrum says. "I had two wonderful older neighbors, Marge Smith and Dee Skie, who helped me so much in identifying the plants in the yard as well as sharing perennial plants from their gardens, many of which are still here today. Most of all, they had a ton of practical knowledge that they shared with me, and it was a great way to get to know two interesting, dear women who shared a love of gardening and passed that appreciation on to me."
Although the two neighbors were a great inspiration, Lungstrum's grandmother was pivotal in her love of gardening.
"My grandmother could make anything grow," she says. "She spurred my interest. She could make pansies bloom all summer in Emporia, Kansas. She just had a knack."
Lungstrum loves the smells of the garden and listening to the birds converse with one another, but what she really finds therapeutic is digging.
"I would try to get these things to grow when the tag read 'partial sun' or 'part shade.' Forget it," she says. "It has to be full shade, which I found frustrating at first, but I've now come to embrace it. There are some fabulous strains of shade plants these days, and I've come to fully appreciate the woodland feel with ferns and hostas, particularly in August. So now when I dig, I stick with plants that will actually grow."
Old but not dead is sort of a theme in this landscape; an array of locust trees are peppered throughout the property.
"We'll never take it down," Lungstrum muses about one of the many hollowed-out tree stumps. "It would have to just rot away before we would do anything to that tree. Our kids would kill us. That tree is where we hid Easter eggs and other childhood treasures. Plus the birds and squirrels like to use the caverns to live in."
That same attitude prevailed when the couple built a huge, tiered deck and an Asian-influenced water garden in the backyard. With an enormous hackberry and gigantic red oak to maneuver around, it was a challenge. But it was important to the pair that the trees stay. The solution is a wooden deck built to form around the trees. After all, they've been there longer and will probably be rooted next to this West Hills home long after many owners have come and gone.
We walk past a "Double File" viburnum that Lungstrum has pruned to look more like a tree than a shrub. The cushiony beds of vinca are in full bloom with petite, violet flowers beckoning pollinators. There are many varieties of hostas, astilbe, columbines, coral bells and hydrangeas. The boxwoods line up like preschool children walking hand and hand as they curve around the flower beds, creating a boundary.
"I try to add some perennials each year," Lungstrum says. "It is hard not to go crazy in the nurseries. I've started to incorporate some tropicals into the Kansas landscape, which has proven to be lots of fun."
When asked what she likes most about gardening in Kansas, Lungstrum says, "I love living somewhere with seasons. It's rejuvenating to see everything come alive. Literally in three days, everything has come to life. Spring is rebirth."
Copyright 2018 The Lawrence Journal-World. All rights reserved. This material may not be published, broadcast, rewritten or redistributed. We strive to uphold our values for every story published.