A Kansas University business faculty member has provided some fuel to kick-start a fundraising effort for a new $50 million-plus building for KU's School of Business.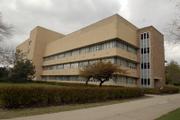 "I want to get the wheels in motion," said Kent McCarthy, who has already provided the KU Endowment Association with $1.2 million.
"I pledged another $10 million if the school can raise $15 million," McCarthy said Wednesday.
McCarthy, who made the donation with his wife, Missy, said he hoped if $25 million could be raised by next year, construction could then start on a new four- to five-story building on KU's main campus.
McCarthy, who teaches at the business school's Applied Portfolio Management program, has been at the school since 1994 after leaving Goldman Sachs investment bank on Wall Street. He received the Henry Bubb Award in 1995 for excellence in teaching, and has a master's degree in taxation from KU. After coming to KU to teach, he started two hedge funds in 1995 and 1996. In 1996 he also started the Jayhawk China fund that specializes in Asian equities.
Rosita McCoy, the Endowment Association's senior vice president for communications, said McCarthy's verbal commitment "planted seeds for a fundraising initiative."
"We have been talking about the possibility of fundraising for a new facility for the School of Business and we have verbal commitments from two donors and we are continuing to identify potential donors," McCoy said.
She and McCarthy said they have had heard costs ranging up to $57 million for a new building, but no formal plans are on the drawing board.
Currently, the business school is on KU's main campus in Summerfield Hall, 1300 Sunnyside Ave. That five-story, yellow-buff brick structure was dedicated in 1960. A five-story addition was dedicated in 1983.
McCarthy said KU officials had told him a possible site for a new business school would be northeast of the Chi Omega Fountain, near Potter Lake.
However, McCoy and Dale Seuferling, the Endowment Association president, said it was too early to discuss where a building would be constructed.
"We kind of don't have a place to put it unless we raise the money for it," he said.
Seuferling said he couldn't comment on McCarthy's gift and the pledge because McCarthy hasn't put specifics in writing.
"We don't have approval from the donor to talk about it," Seuferling said. "Nor do we have the terms of the commitment completed."
Seuferling said discussion about a new business building was still "in the feasibility stage" and it would depend on acquiring more money.
KU's business school's enrollment continues to grow and its programs must compete with other business schools, he said.
"We always have to look at the facilities and keeping the facilities competitive," he said. "That's going to rely upon private support making that possible. This is a high priority project."
Although the Endowment Association often announces such gifts formally, word of McCarthy's gift came this week after the Journal-World obtained an e-mail written by William Fuerst, the business school's dean.
Fuerst could not be reached for comment Wednesday. However, in an e-mail sent to 145 colleagues earlier this year, Fuerst wrote about the $10 million pledge and McCarthy's $1.2 million gift.
"Kent's challenge grant has a deadline," Fuerst wrote. "We must match his $10 million with another $10 million from other donors by December 31, 2007."
Fuerst's e-mail said he was developing a work plan for raising the first $10 million for the match by the deadline and the remaining funds in 2008. He said the goal was to bring in $50 million.
Copyright 2018 The Lawrence Journal-World. All rights reserved. This material may not be published, broadcast, rewritten or redistributed. We strive to uphold our values for every story published.