Six-hundredths of a second isn't exactly distinguishable by the naked eye in swimming.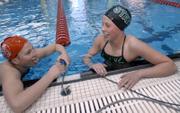 Free State's Katie Swank and Lawrence High's Chelsea Dirks-Ham were side-by-side in the closing seconds of the 100-yard freestyle Tuesday. From neighboring lanes, they generated the loudest uproar from fans at the Lawrence Indoor Aquatic Center as their hands seemed to touch the finish line at the same time.
On closer inspection of the stopwatches, Swank's 54.70 seconds barely edged Dirks-Ham's 54.76.
"I thought we tied," Swank, a senior, said. "I've known her since I was like 10 or 12. Chelsea and I swam together with the (Lawrence) Aquahawks and know our strong points."
Swank's victory was part of a dominating Free State performance. The Firebirds (446 points) won a season-best 11 of 13 events during their first home quad of the season.
Lawrence High placed second with 329 points, followed by Shawnee Mission South (278) and Shawnee Mission Northwest (268).
Dirks-Ham said she felt Swank's presence down the stretch and knew the finish would be memorable.
"I breathe to the right, so I couldn't see her because she was to my left," Dirks-Ham, a senior, said. "I didn't know how close we were until I reached to touch. Then I saw her reach to touch at the same time and I was like, 'We're going to tie and it's going to be a huge deal.' But it was a good race."
Swank's close victory was a prime example of a technique Free State coach Annette McDonald has taught her swimmers.
"We've been talking about not breathing all the time and keeping our heads down," McDonald said. "We're going to finish with our head down and look at that finish line instead of breathing, breathing and then asking, 'Where is everybody?' We're just going to say, 'O.K. it's close, let's go for it.'"
It'd be difficult to say Swank, who will swim at Miami of Ohio next year, wasn't the most talented swimmer in the pool. She entered two individual events (100 free, 200 free) and won both of them. She was part of two relay teams (200 free, 400 free) as well. If you guessed Free State won both relays, you'd be catching on quickly.
"She's very versatile," McDonald said. "She can do absolutely any event in high school and be very competitive."
Perhaps Free State's most rewarding team result came in the 200 freestyle relay. The team of Swank, senior Sarah Clark, junior Katie Sloan and freshman Heather Clark qualified for state and won the event with a time of 1:46.11.
Sophomore Erina Houk gave LHS fans reason to cheer with her state-qualifying time of 5:40.86 in the 500 freestyle.
"She's been starting off fast, but then dropping off her third or fourth hundred," Lawrence High coach Kent McDonald said. "If she drops below pace, we start shaking and yelling. She says she wanted me to be animated, and I'm not the animated type. But I tried to be."
Free State simply outmatched the Lions in nearly every event, though. In the aforementioned 500 free, Free State freshman Morgan Flannigan won the event by 30 seconds with her time of 5:10.12.
The Lions emerged victorious in the 100 breaststroke. Freshman Elle Weber won the event with a time of 1:12.72.
Copyright 2018 The Lawrence Journal-World. All rights reserved. This material may not be published, broadcast, rewritten or redistributed. We strive to uphold our values for every story published.