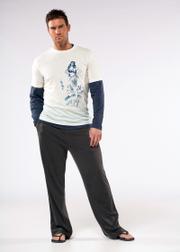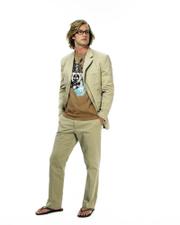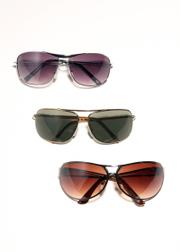 Men probably appreciate the transition from winter to spring - and summer - more than women. They get to get out from underneath all those sweaters and scratchy wools, and break out, dare we say, the Bermuda shorts and tees!
In other words, lighter clothing.
Daniel Billett, who writes a newsletter on men's fashion and grooming for www.about.com, came up with five spring and summer wardrobe additions that lean more toward a casual look.
"I particularly enjoy wearing what I consider my uniform of the season - a polo, flip-flops and jeans with a great belt topped off with cool sunglasses," Billett says online.
Here are his must-haves:
¢ Polo shirts: Did you know that it was French tennis player Rene Lacoste who made the polo shirt one of the most popular wardrobe basics? And, up until 1950, it only came in white. Today, polo shirts come in a variety of hues, fabrics and shapes - and prices. Every guy should have at least two.
¢ O-ring belt: When a more classic leather belt is too much, this belt performs the same function with a more casual outfit.
¢ Premium jeans: Billett makes a point of saying that men are willing to spend almost as much as women on quality denim. So, they're looking at labels such as Citizens of Humanity and 7 For All Mankind. That said, there's still nothing wrong with a pair of Levis, especially if you broke them in on your own.
¢ Flip-flops: There's no reason not to buy a new pair when the weather warms. Best bets? Check out the Reef selection at Shark's Surf Shop or The Buckle. There's even a new style with a built-in "flask" (holds 2 ounces of a beverage) in each heel.
¢ Sunglasses: Men consider sunglasses as essential an accessory as women. This spring, the aviator style is making a comeback.
Copyright 2018 The Lawrence Journal-World. All rights reserved. This material may not be published, broadcast, rewritten or redistributed. We strive to uphold our values for every story published.