Atlanta — An unseasonable cold snap put a chill on Easter Sunday services across the Southeast and much of the rest of the country, moving some events indoors and adding layers over spring frocks.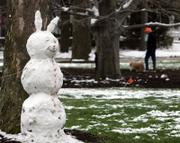 Even baseball had to take another time out - because of snow.
Across much of the eastern two-thirds of the nation, Easter celebrants swapped frills, bonnets and sandals for coats, scarves and heavy socks. Baseball fans huddled in blankets and, instead of spring planting, backyard gardeners were bundling their crops.
Two weeks into spring, Easter morning temperatures were in the upper 30s along the Gulf Coast and in the single digits in northern Minnesota and the Dakotas. Atlanta had a low of 30 degrees, with a wind chill of 23, the National Weather Service said. The same reading hit New York City's Fifth Avenue, celebrated in song for the traditional Easter Parade of spring finery.
Despite the chill, nearly 1,000 people attended the annual sunrise service at Georgia's Stone Mountain Park, as a slight breeze whipped over the granite monument. The service usually attracts 10,000.
Children dug through snow with mittened hands to find Easter eggs scattered across the town square Saturday in hard-hit Chardon, Ohio, east of Cleveland, where about 16 inches had fallen.
The Cleveland Indians tried all weekend to kick off their series against the Seattle Mariners but were stymied when the weather forced Friday's home opener and subsequent double headers on Saturday and Sunday to be postponed. Several Mariners left the dugout to make snow angels on the field in the empty stadium.
The cold also scuttled a bid in Lake Geneva, Wis., to set the record for doing the twist, as countless would-be dancers stayed home.
"It was really a twist of fate," said a disappointed Kathy Fraser, organizer of Saturday's Largest Twist Dance. "We will just have to try again next year."
Farmers were worried about the impact the weather could have on crops. Blueberries could be particularly affected, said Stanley Scarborough, production manager of Sunnyridge Farms, which has fields in Baxley and Homerville, Ga.
Scarborough said the majority of the state's blueberry crop, a variety called rabbit-eye, is normally harvested around June 1. This year, the bushes bloomed early because of a wave of warm temperatures last week. Scarborough the blueberries are not able to withstand freezing temperatures.
"At 26 or 27 degrees, you would probably lose half of the Georgia crop," valued at about $20 million to $25 million dollars, Scarborough said.
Copyright 2018 The Associated Press. All rights reserved. This material may not be published, broadcast, rewritten or redistributed. We strive to uphold our values for every story published.