Finding comprehensive yet affordable health insurance is a challenge for Kansas University students, especially those with families.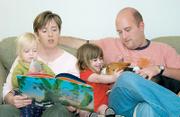 Many KU students with children end up putting their children on HealthWave, the state's subsidized health care program for children, instead of buying one of the plans the school offers, which last year cost $4,336 per year in premiums, per child.
A key benefit to KU's plans is that doctors' visits are free at Watkins Student Health Center. But the center doesn't have any pediatricians.
"I think it's an issue that the school should be working on," said Debbi Thayn, wife of a Kansas University doctoral student, who goes without insurance rather than paying the roughly $3,500 in premiums it would cost to insure herself through KU.
The couple's two children, ages 2 and 4, are on HealthWave, and Thayn said she knows about six other families who do the same thing. There are about 1,000 married students at KU. It is unknown how many have children.
"We checked out (KU's) plans and decided they were much too expensive," she said. "We would be using our student loans to pay for it when we need our student loans for living expenses."
Diana Malott, associate director of KU Student Health Services, said it's hard for schools to find a plan that's right for all students. The health care needs of a single, 20-year-old undergraduate differ greatly from the needs of a graduate student with a family.
Malott said she's optimistic that a new three-year contract for the state's public universities, set to begin Aug. 1, will strike a better balance than the plans KU has had in the past.
In recent years, KU has offered two voluntary health insurance programs for students, both provided by MEGA Life and Health Insurance Co. One was used by all regents universities and cost $876 per year in premiums for the student, $7,502 for the family.
For a student who rarely gets sick and doesn't have chronic health problems, "that type of coverage is fine," Malott said.
The problem with the plan, she said, was that the coverage wasn't as strong as it appeared on the surface. It had caps that limited benefits, such as a $250 per year maximum prescription drug benefit and $300 per day limit on hospital stays. Major medical treatments, such as chemotherapy, weren't covered unless the person bought an add-on to the policy that cost $461 for the student, $1,383 for the family.
"I've fielded lots and lots of phone calls from parents and students who thought they had a good policy and realized once they got into it and needed it that it was not very comprehensive," Malott said.
As an alternative, KU in 2005 offered a plan designed to give more thorough coverage. But because of the small number of people enrolled - about 300 last year in Lawrence - a few large claims caused premiums to skyrocket.
For example, it would have cost more than $13,000 in premiums this year under that plan for a student to cover herself, her spouse and her children. That doesn't include a $250 deductible per illness for children.
KU's new plan, also provided by MEGA, aims to offer benefits that are similar to those provided by an employer, Malott said. The plan does away with some of the caps on benefits and has a $1,000 maximum prescription drug benefit instead of $250.
The annual premium for one student will be between $900 and $1,000. Add a spouse, and it jumps to about $4,800. With the spouse and children, and it costs about $8,265.
Copyright 2018 The Lawrence Journal-World. All rights reserved. This material may not be published, broadcast, rewritten or redistributed. We strive to uphold our values for every story published.