Rome — From Moscow to Washington, Rome to Jerusalem, Christians of the Orthodox and Western faiths celebrated Easter on Sunday, prayed for a better future and relished their ancient rituals.
The alignment of the two faiths' Easter calendars, based on equinox and moon phases, occurs every few years, and this year's overlap made the narrow streets in the Holy Land especially crowded.
At the Vatican, the Eastern Christian celebrations of Easter resounded across the steps of St. Peter's Basilica when black-robed clerics intoned a long chant from the Byzantine liturgy during Pope Benedict XVI's outdoor Mass for tens of thousands of faithful. St. Peter's Square was ablaze with color from tulips, tiger lilies, hyacinths and azaleas from the Netherlands.
Benedict, head of the world's 1.1 billion Catholics, tempered his message about Easter joy with a litany of suffering in the world today, including what he decried as "continual slaughter" in Iraq and bloodshed in parts of Africa and Asia.
In Washington, a dawn crowd gathered for an Easter service at the Lincoln Memorial. Bundled up in blankets, scarves and hats, the worshippers sang "God Bless America" as the sun's rays glimmered on the reflecting pool.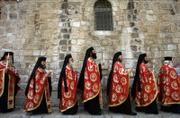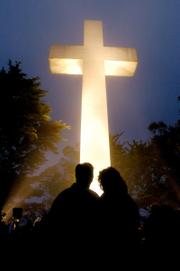 President Bush worshipped at the chapel at Fort Hood, an Army post 50 miles southwest from his ranch in Crawford, Texas. The sprawling post has sent thousands of soldiers to the war in Iraq.
"I had a chance to reflect on the great sacrifice that our military and their families are making," Bush said after the service. "I prayed for their safety, I prayed for their strength and comfort, and I pray for peace."
After weeks of Lenten sacrifice and fasting in preparation for Easter, many Christians in Eastern Europe enjoyed holiday meals including brightly colored hard-boiled eggs. Roast lamb was featured on many tables in the Balkans as well as in Italy.
Cries of "Christ is risen!" went up in Macedonia after midnight, when priests symbolically announced Jesus' victory over death. Archbishop Stefan, head of the Macedonian Orthodox Church, called for peace "in our homeland and among all the people in the world."
While Christians are a tiny minority in Turkey, for historical reasons the Orthodox patriarchate has its home in Istanbul, ancient Constantinople, and the spiritual leader of the world's 200 million Orthodox, Ecumenical Patriarch Bartholomew I, is based there.
Most of the worshippers packing the Church of St. George at a Saturday night Easter vigil service were visitors from Greece.
In the Pacific's predominantly Christian Solomon Islands, struggling with earthquake and tsunami losses, frightened villagers descended from the hills to celebrate Easter.
"Maybe it's a punishment from God," said one worshipper, Furner Smith Arebonato. "Before, there were few people in church. Now, after (the) earthquake, the church is filled with people, some of them never went to church before."
Copyright 2018 The Associated Press. All rights reserved. This material may not be published, broadcast, rewritten or redistributed. We strive to uphold our values for every story published.