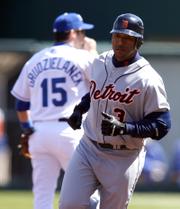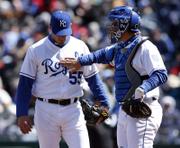 Kansas City, Mo. — Gary Sheffield still is trying to get comfortable with his new team and new role.
Sheffield, who signed a three-year, $41 million contract with Detroit, hit his first home run for his new team as the Tigers defeated the Kansas City Royals, 6-5, on a cold Saturday afternoon. Ivan Rodriguez and Curtis Granderson also homered for the Tigers.
"Anytime you change teams, you always have an adjustment period," said Sheffield, who is playing for his seventh team in a 19-year career in the majors.
Sheffield will be the Tigers' primary designated hitter this season, but he has had only 37 at-bats as a DH prior to this season.
"I'm trying to figure out different things," Sheffield said. "A couple of times I stepped in there and I wasn't real sharp. I got a couple of pitches yesterday to hit and winded up hitting the ball to the shortstop. I felt like I didn't get loose enough. If you hit balls off the tee the whole game, you end up too tired."
Sheffield, who had just one single in his first three games with the Tigers, homered to left with two outs in the first.
"I got a good pitch to hit," Sheffield said. "When you have success early it breeds confidence."
Rodriguez homered into the Tigers' bullpen to lead off the fourth, putting the Tigers up, 4-3. It was his 19th home run in 152 career games against Kansas City. Granderson homered to lead off the fifth.
All the Tigers' home runs were off Gil Meche (1-1), who limited the Boston Red Sox to one run in 71â3 innings in the Royals' season-opening victory. Meche gave up six runs and eight hits in seven innings, while striking out four and walking two. The Royals signed Meche to a five-year $55 million contract in December, making him the highest-paid pitcher in franchise history.
"After the third inning when I gave up three runs, we battled back and then I give up a home run the next inning," Meche said. "That kind of eats you up to let down your teammates when they are battling so hard."
Said Royals manager Buddy Bell, "Meche pitched pretty well against the American League champions, although I am sure he'd like to have back the three pitches he left up."
Mike Maroth (1-0), who was making his first start since May 25 and having arthroscopic elbow surgery last June, picked up the victory, allowing four runs and six hits in five innings. Todd Jones pitched the ninth for his second save of the season.
"I've been anxious for the season to start," Maroth said. "It's good to be back and going out and pitching again. It's been a long time. I know this is the last place I made my last start last year, but that wasn't the big deal. I'm looking forward to not only this start, but for the entire year. It is not just satisfaction for this game alone.
"I'm excited not just for this start, but getting the season going, being healthy. It's a completely different feeling than I had a year ago. I felt comfortable. I wished I had a better outing. It wasn't the best outing, not my best performance, but we did enough as a team."
Reggie Sanders went 3-for-4, including a two-run homer in the third, and scored three runs. He doubled in the second and scored on Esteban German's single. Sanders singled to lead off the sixth and scored on German's double.
"We kept answering and they kept answering," Sanders said. "It felt great from my standpoint, but at the end of the day it's about winning. I just try to work out and do the things I need to do to remain physically in shape and when the call of duty comes then try to do what I can do."
In a three-run third, Sheffield and Granderson contributed run-producing singles, while Placido Polanco scored on Magglio Ordonez's sacrifice fly.
The temperature was 29 degrees for the first pitch with the wind-chill factor making it feel like 20 with northwest winds at 15 mph.
Notes: Rodriguez is hitting .350 at Kauffman Stadium, the second highest average at the stadium among active players at Kansas City. ... Royals 1B Ryan Shealy is 0-for-12 in his first four games. He reached first in the fourth when he was hit by a pitch, but Maroth picked him off. ... Rookie 3B Alex Gordon, who was 1-for-15, did not start against the Tigers as CF David DeJesus was the only left-handed hitter in the KC lineup.
Copyright 2018 The Associated Press. All rights reserved. This material may not be published, broadcast, rewritten or redistributed. We strive to uphold our values for every story published.